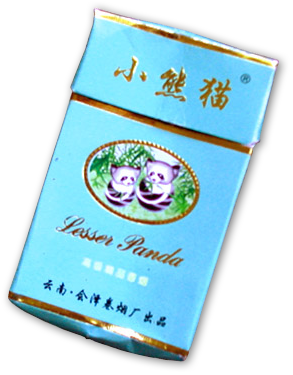 Wednesday, 24 Dec
I take the train to NRT Narita International Airport and board All Nippon Airways flight 919 and fly to PVG Shanghai Pudong International Airport. Luckily Jeremy is there to meet me and we go back to his apartment south of the Hongmei Lu and Wuzhong Lu intersection. It's a nice apartment with two bedrooms and will be home for the next month.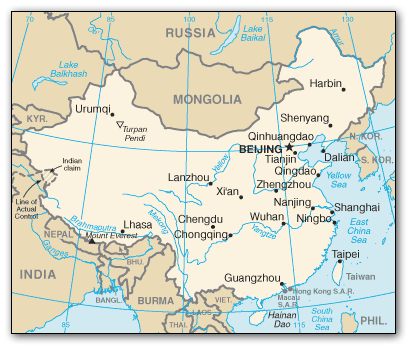 ---
Wednesday, 31 Dec — Shanghai
A nice evening at the Bund with a mediocre fireworks display. What really gets us going is the bottle of báijiǔ Jason busts out in the taxi on the way there. And then we buy a bunch of Roman candles and light them over the river. Then Jeremy has the nerve to pull a 180 and begins firing the Roman candles along the ground towards the peoples feet. Everyone beings jumping over the fireworks. It was funny as heck, but we could have gotten in trouble. We go up into an office building on the Bund and listen to the White Stripes' song Seven Nation Army while finishing the rest of the báijiǔ.
---
Thursday, 1 Jan 2004 — Shanghai
Facial hair on men will never really be in in a country where the men really can't grow that much facial hair (until they are well into age.)
You haven't really been to a country until you've had diarrhea. In my case, the Běijīng belly hit on day 9, Jan 1, 2004. Happy New Year.
---
Sunday, 4 Jan 2004 — Suzhou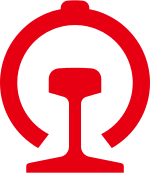 We take the train from Shanghai to Suzhou and enjoy the beautiful town. We visit the Humble Administrator's Garden.
In the evening, we buy tickets for China Railway T719次, 09车, 下052号, for ¥21元. We depart Suzhou railway station 苏州 at 8:13pm and head east toward Shanghai 上海. We arrive to Shanghai railway station 70 minutes later.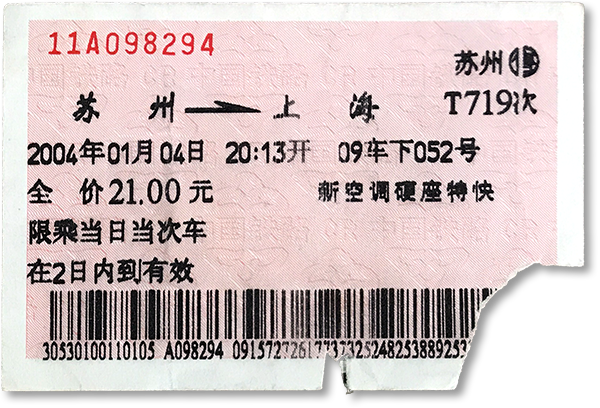 ---
Friday, 30 Jan @ 3:14P — Shanghai
Subject: Live from China
Yo, ni hao 你好 everyone,
Been a while, but I am alive and keeping the vibe. Right now, in Yángshuò, at one of those noisy Internet/bar places that you find all over the world these days pumping out the latest in Euro-techno Yángshuò (pronounced: yang + show) is a definite highlight of the trip. It is a karst masterpiece in all senses. I can't explain really, you just gotta come here. Trust me, do an image search on Google. It is basically these plant covered limestone outcropping that jut 1000 feet out of the valley and rivers. The weather had been gray for the last 2 months, and I prayed in Shànghǎi at all the temples for sun. I mean I really prayed, threw money at all the Buddhas. (I also prayed for you all as well.) Well, I can't say if it the miracles of Zen, or whatever, but literally, the moment I left my hotel room at 2:00 PM (yep, Shànghǎi put me on a bad schedule) the sun came out for the first time all year. It was epic to say the least, and magical to say the most. Anyhow, it has been rayz ever since. Took about a billion photos, but none will go on the Web site, 'cause I don't have that ability now. (I miss that hi-speed-connect that Jeremy has in Shànghǎi.) Again, just do a Google images search for: Yángshuò or Guìlín. I will roll around SW China for the next month and then onto Nam, Cam, Thai and then to India. I have to say that I was worried about getting around this wild country, but in reality, it has been nothing but a pleasure. I am learning Chinese and all the locals are wild about helping me. This place is now in the prime time. China is more open now than ever. Go visit Jeremy and then come visit me. I expect to see all of you. The only excuse not to have your butts over here is if: you just bought a house, or just had a kid. You know who you are. Everyone else, come on. Just do it. You are only 30 once.
Anyhow, been eating a lot of that food, and yep, I gained a couple. That is OK, though, 'cause it will be gone soon enough. China is a culinary masterpiece and the new year here and excellent beer really is putting a demand on my belt, but whatever. If the vegans of the bunch knew what went down my esophagus, they would never talk to me again. Any how, eel rhymes with real, and lamb is never damn. It is just the pork that Moses would worry about, but if he was alive today, it would be the cow that would bring the most pout. And on that note, everyone go to the store and buy a Qīngdǎo beer and think of me.
I miss you all and think of you. Keeping it real. Say no to Bush in 2004. It is time we, as Americans, stop expecting and start accepting.
Cheers mates!
---
Thursday, 5 Feb — Night train
I buy tickets for China Railway 2059次, 15车, 13号中铺, for ¥263元. We depart Guilin railway station 桂林 at 6:00pm and head west toward Kunming 昆明.
On the train I meet a whole slew of characters including several other backpackers. One family I chat with is a mixed couple, the wife being Chinese and the husband Caucasian; I'm not a particularly good judge of beauty but I find neither attractive, especially the balding, middle aged chap. But they have three half-Asian, half-white kids all of whom are adorable. I realize it would be to my childrens's benefit to mix up my genes a bit.
I chat with other curious Chinese on the train. Many are tourist, like me, and others are visiting family. We all share tea and noodles during the 24-hour journey.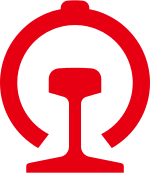 We arrive to Kunming railway station the next morning. Several of the backpackers and I leave together and find a dormitory room with six beds to share for about ¥25元 a person, or around $4 USD, a great deal indeed.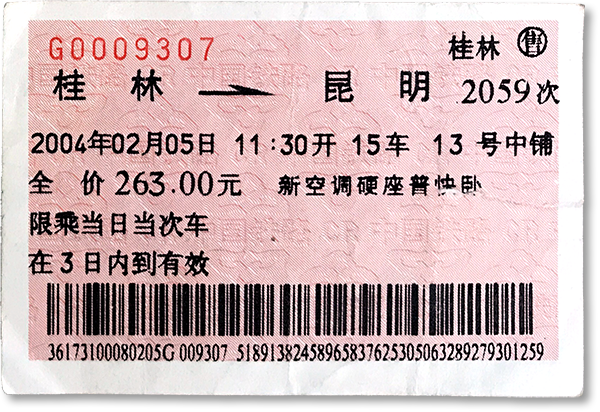 ---
Friday, 6 Feb — Kunming
Kunming is known as the sunshine city, an irony considering it snows today. Nonetheless I tour around the surprisingly modern metropolis. I wonder what happened to all the traditional buildings, as I can find known. Instead I navigate massive boulevards in between towering buildings. As a first impression, Kunming is not my favorite city.
---
Sunday, 8 Feb — Bus to Dali
The great thing about building a freeway in China is that they let you drive on it whilst under construction. And so, I witnessed (as did my kidneys) first hand, the building of monstrous new road from Kūnmíng to Dàlĭ. The drive would make a Kenyan cry!
---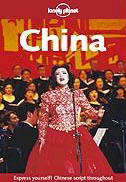 Tuesday, 10 Feb — Dali
And so I've found a tranquil place where there is traditional Chinese architecture everywhere, where you can bike thru endless tea and yellow flower fields, and where smiling toothless old women in aqua head scarves feed you food that numbs the mouth.
Kunming 6 -7 :: Dàlĭ. 8 - 9 :: Qiaotou 桥头 10 :: Tiger Leaping Gorge 11 - 12 :: Lìjiāng 13 - 16 :: Dàlĭ. 17 - 18
---
Thursday, 19 Feb — Train & Sleeper bus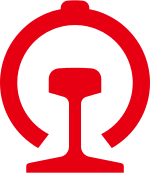 I wake up in Dali and and board China Railway K744次, 02车, 06号中铺, for 67元. We depart Dali railway station 大理站, Yunnan, at 10:10am and head southeast toward Kunming 昆明. We arrive to Kunming railway station just before dusk. After arriving in Kunming, I wander around for a bit, eat some soup and wander toward the bus station to head to Vietnam.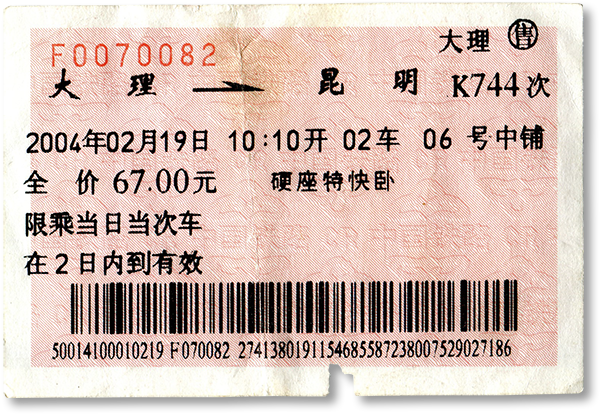 The Kūnmíng long distance bus station — not one of the most pleasant places on earth — a place with stench that equals perhaps Suez. Anyhow, I find myself somehow on an overnight bus sleeper to Hekou 河口; so that I may gracefully cross the China/Vietnam border. The bus is jammed with people: envision a can of sardines rolling down the highway at 60 MPH. Dehydration is the name of the game as pit stops are as rare as a foreigner here. Once we get going, there is no stop for five hours, where everyone shuffles out with a communal shitter which is nothing more than a white tile trough partitioned by three-foot high walls. Six men squat simultaneously and shit together for seems to be ten minutes. I, being the odd one out, opt for a more private section in the back. I latter learn my positioning mistake when a splash of water forces all the refuse my way, underneath me and into an oversized drain beneath. The big flush. This is hell, I think as I wipe and exit. The funny thing is is that I am expected to pay for this enjoyment. Yeah, right. No RMB for you!
* * * * * * *


Buddha Images
My last two weeks in China were groundbreaking. Yúnnán Province (Southwest China) was superb in all rights: The weather perfect, neon-yellow flowers were in bloom everywhere, the spicy food tantalized and numbed my taste buds, and the peoples' smiles were brilliant. I was so inspired that I even wrote my first guitar/vocal song in five years. ( G G D C C D ) It was mostly colorful Chinese tribal minority tribal folks in these parts and a sharp and healthy contrast to the paler Hàn majority found throughout the rest of China proper.
The fun began in the ancient historic town of Dàlĭ. On the first day, I took a 25-mile bike ride throughout endless villages, along cobblestone alleys, and passed 1000-year old stone Táng dynasty stone pagodas. All the time I was surrounded by huge snow-covered mountains to the north, blue Dàlĭ. Lake to the south, and neon-yellow flowers and tea gardens all over the rest of the place. An international contingency of one Japanese (m), one Chinese (f), one Canadian (m), one German(f) and myself(m) took it upon ourselves to traverse the landscape and together we trekked the steep trails of the 23 km Tiger Leaping Gorge amidst jagged 13,000 ft mountain peaks and mile-deep river valleys. It was, as Mark Segalman says, "EPIC!" The trip ended in the historic town of Lìjiāng and featured an old-city of traditional Chinese architecture — mainly what I thought all of China looked like before I got here. To my dismay, most of what I thought was China had long since been torn down and replaced with their version of modernity — white tiled square buildings. All in all though, China ranks at the top of the list; and I have seen >1% of that massive place…