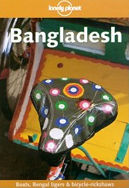 23 - 29 June, 2004
Bangladesh was surprisingly outstanding; and Dhaka (the capital) now holds the world record for the "all-time most fantastically insane place I have ever been." Even Brian, the tainted traveler that he is after 7 months and 9 countries in Asia, could not anticipate the hair-raising CHAOS that 'Old Dirty' Dhaka could dish out. Talk about 600,000 rickshaws (bicycle drawn carriages for those in the 21st-century) and buses that looked like they just re-entered the Earth's atmosphere along with 14,000,000 people in an area about the size of San Francisco. My favorite time was evening rush hour(s) when I sat in my hotel and looked upon the street scene below. In disbelief I would watch as tens of thousands of brave souls crisscrossed a major signal-less intersection without anything more than minor collisions. It was literally bumper to bumper rickshaw traffic as far as my third floor view could afford. The participants were mostly men, but there was the occasional concealed women braving the action as well. And just when I thought it could get no more extreme, just when the horns, yelling, cries of animals and archaic noise could get no louder, the call to faithful would blurt from loudspeakers above all else "Allah akbar… Allah akbar… " and then when that was going on for a bit, a torrential monsoon rainstorm would let loose and cover the city with muddy floods. I loved Dhaka in that weird way I love all developing capital cities.
I can't stop talking about it — interestingly, the head of state of Bangladesh (in 2004) is a woman named Khaleda Zia — she is the widow of the Bangladesh National Party founder, President Ziaur Rahman. The opposition leader, Sheikh Hasina, is the daughter of Sheikh Mujibur Rahman, the nationalist leader and first president of Bangladesh. Can you imagine: two women running a country of 130,000,000 religious Moslems? Personally, I think it is great because the country sure needs a lot more feminine energy.
And check this out— I wish you could see the plane I flew on to get to Dhaka. It was a 1970s Fokker 28— a plane from a company that no longer exists. The seats would fall back, the overhead compartment wouldn't shut, the food trays would fall open, the thing was louder than 3rd row at a U2 concert, but the plane took off like a rocket ship from Yangon, the capital of Myanmar, and landed in Dhaka with no problem at all. Unbelievable. And other than two Portuguese people and one US marine I met on the flight, I didn't see ONE foreigner the entire time I was in Old Dhaka, NOT ONE. I did meet some expats in New Dhaka, the good part of town, and they couldn't believe I was a tourist. They took me to a special club to get me a beer (they don't server beer anywhere else in the dry country) and all the expats began calling me "the Tourist." No one believed I was in Dhaka "touring around." Well, the question I have is: "Why aren't people going to this final bastion of true urban wildness, a place that even Hollywood could never recreate? Why aren't people coming to fantastic Dhaka?" I simply don't know. Kashio, the Japanese girl that so gratefully opened her home to me in Tokyo was the one responsible for me going to Bangladesh, and apparently the Japanese are the only tourists that go to the country en mass because all the Bangladeshi locals asked if I was Japanese. "No, no, I am Canadian." (Didn't want to reveal the US passport.) But finally, I succumbed. I guess I am now (partly) Japanese. "Yes, from Japan." :).
---
Wednesday, June 23 — Dhaka
Biman Bangladesh Airlines flight 61 on a Fokker F-28-4000, departing Yangon RNG, Myanmar and arriving to Dhaka DAC, Bangladesh; at the airport, I met Jason (the half Chinese, half Puerto Rican cool Marine); went to Marine house; dropped off at Hotel Al Razzaque, 29/1 North South Road, 600m south of Gulistan Crossing. There was a restaurant downstairs called Al Razzak Restaurant আল রাজ্জাক রেস্টুরেন্ট.
---
Thursday, June 24 — Dhaka
Old Walk around Dhaka town. Email from Internet cafe with crowd watching. Ex-pat club night.
---
Friday, June 25 — Dhaka
Wake late; walk around Old Dhaka and around Bangshal Pukur (pond.) Took a river boat excursion. Took a bicycle-driven rickshaw back to the hotel. Went on roof of hotel for some great traffic photos. I think I went to the National Museum, but I don't quite remember.
---
Saturday, June 26 — Dhaka
I moved to the Hotel Grand Palace International (later called Hotel Baitus Samir International হোটেল বায়তুস সামির ইন্টারন্যাশনাল ) at 11-12 North South Road (near Fulbaria bus stands) Dhaka-1100
We tour the Jatiya Sangsad Bhaban parliament building (by Louis Kahn) with Portuguese architects. Then tour the Baitul Mukarram, which is the National Mosque of Bangladesh. Dinner and cool walk down night market alley. At one point, I withdrew 5,000BDT Bangladeshi Taka from Standard Chartered Bank, Dhaka Main Branch
---
Sunday, June 27 — Dhaka
Hotel Grand Palace International; More Internet time with a crowd. I visit the Khan Mohammad Mridha Mosque, near Lalbagh Fort. Afterward, I get lost in the neighborhoods around Hindu Street, or Shankhari Bazaar, with its old buildings, arches and shops. I almost buy some tables. At one point, I get gassed by a mosquito eradication leaf blower guy, spewing out pesticides in the air. It was terrible and surreal. More epic traffic shots at night.
---
Monday, June 28 — Dhaka
Hotel Grand Palace International; Last day; find bus ticket; Hindu Street; Banga Bazaar; traffic photos; night walk.
---
Tuesday, June 29 — Dhaka
Bus leaves at 8:00A to India; ferry ride on the lower Ganges; border crossing; bribe Indian customs official with 100Rs; arrive Kolkata in the PM