Thursday, March 31 — Lima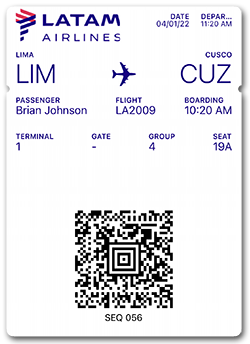 Our Copa Airlines 737-800 lands at Aeropuerto Internacional Jorge Chávez at 7:21pm. We grab our bags, exit the airport and grab the shuttle for the Holiday Inn Lima Airport. After check in, we make a game-time decision to Uber over and try Astrid & Gastón, with tonight being our only realistic opportunity.
After a thirty-minute ride we arrive at the Casa Hacienda Moreyra which houses the famed restaurant. We start with the obligatory pisco sour, a cocktail that originates from Peru, made with Pisco (a type of brandy made from grapes), lime juice, syrup, egg white, and Angostura bitters. It is done exactly as I envisioned and is wonderful after the long journey. We also order a bottle of Agua Munay con gas; it arrives in a beautiful bottle that I want to keep.
For food, we try a wonderful cebiche de lenguado, a classic version of sole ceviche, a raw fish dish marinated in citrus juices. It's delightfully fresh and zesty and the presentation looks out of a culinary magazine. Next, we dive into the Cuy Pekinés de toda la vida con panqueques de maíz morado y salsa hoisin de rocoto, or Peking-style Guinea pig—a traditional Peruvian meat—served with purple corn pancakes and a rocoto (a type of hot pepper) hoisin sauce. It's a unique experience, to say the least.
Our next dish is the Conchas de abanico asadas en escabeche al aji mirasol, or roasted scallops served in the shell with a rich sauce made with mirasol chili. It's a balance of heat, sweet, and tangy notes that leaves us wanting more. We also order a sautéd white fish dish, the Filete de chita con riojana de vongoles y su trinxat de col y papa, which is a filet of chita, a type of fish common in Peru. It is served with a clam sauce in the style of La Rioja (a region in Spain) and a side of trinxat, a cutlet made from potatoes and cabbage. The fish is tender, and the trinxat adds a comforting, homey touch.
The gastronomic adventure doesn't end there. We also get to try the Causa de langosta y cangrejo una salsa golf de sus corales, a causa, a traditional Peruvian layered dish, made with lobster and crab, served with a coral (roe) "golf" sauce, similar but more elegant than thousand island sauce. For desert we have the Capitan Cacao.
---
Friday, April 1 — Sacred Valley
Decent breakfast at the hotel w/papaya, cheese, eggs
Shuttle to the airport and check in to LATAM Airlines flight LA2009. Our Airbus A320-200 takes off at 11:20am. During the decent in clouds, I suddenly realize the plane is surrounded by terraced mountains on both sides and that we are actually flying through the clouds in a canyon. It seems quite dangerous actually. Nonetheles, our good captains land at 12:43pm. We are met by our guide Gabby and drive away in a nice van. We stop at Awana Kancha, where we are introduced to the full array of camelids: llama, alpaca, vicuña and guanaco. We feed the animals and I buy a beautiful baby alpaca (meaning the first trimming) scarf.
We then visit a nice market and head to Hotel Inkaterra Hacienda Urubamba, in Huayoccari, where we check into a casita with a nice view of the valley and mountains beyond.
Tea time
Fun
Dinner at room
---
Saturday, April 2 — Sacred Valley
Breakfast at hotel the ancient salt mines of Maras circular agricultural terraces at Moray Chinchero Twilight's tour Dinner at hotel
---
Sunday, April 3rd — Machu Picchu
Breakfast at hotel
Archaeological site of Ollantaytambo
Visit the chicheria for a game of sapo to drink some normal chicha and strawberry-flavored frutillada drink
Vistadome train from Ollantaytambo to Machupicchu Pueblo, also known as Aguas Calientes 🚂
Check into the Inkaterra Machu Picchu Pueblo Hotel
Walk around, visit the soccer turf
Hot tub
Fun
Dinner at hotel
Hot tub
---
Monday, April 4 — Cusco
Break fast at hotel
Heading to the Machu Picchu site with our guide, Justo.
Walked back down many, many steps through the jungle and rain to Machupicchu Pueblo
Lunch of off-menu and locals-only Lenteja con pescado aka lentiles, rice and king makerel (which as it turns out is a traditional Monday food) as well as chicken soup and Cusqueña wheat beer at Restaurant Loretana
Chill in hotel including a hot tub and dip in the coold 'pond'
Vistadome train to Ollantaytambo; there is a landslide on the tracks and we get stuck for two hours
Cusco
Inkaterra La Casona
Dinner of two soups at hotel
---
Tuesday, April 5 — Cusco
Breakfast at hotel TAMBOMACHAY PUKA PUKARA SAOSAYWAMAN #tambomachay #pukapukara #sasaywaman Quechua Cusco Cathedral walked to San Pedro market (Five blocks, pass Francisco square, passed arch, is San Pedro market) ate Picarones beer at Antes of Cristo walked to San blas
---
April 6th — Inkaterra Amazonica
Breakfast at hotel
Flight to Puerto Maldonado
Driver met us at the airport, took a bus to the riverboat, took the river boat to the hotel
Check into Inkaterra Reserva Amazonica, have lunch and check into Cabana #2, on the river, with two hammocks
Inkaterra Reserva Amazonica natural area, where you will discover the Amazon Basin. Chilax
Twilight River excursion on the Madre de Dios River to see caiman, who are alligatorids belonging to the subfamily Caimaninae, one of two primary lineages within Alligatoridae, the other being alligators. We see several babies caimen and one larger reptile as well as some of those large rhodnets. we also see a Capi bara- the large rhodent animal on the bank. Baby Cayman
Dinner
---
April 7th — Inkaterra Amazonica
Breakfast at hotel
(Boat ride on the lake nad walk in the Tambopata National Reserve)
Lake Sandoval excursion into the Tambopata National Reserve.
We see a white necked heron, black comorant, snake bird, Brazilian wandering spider, moving walking palm tree, Maulwechous Palm or water palm, and a stick insect
On the walk back, we see red tamarin monkey high up in the trees. They are beautiful
We also see many moving walking palm trees, and other trees that take over and grow on top of palm trees and become thrice as large and tall. We see king fisher birds, kima, Cieva tree
Lunch at hotel
Chilax
Inkaterra Canopy Walkway offers unique views of the surrounding Amazon rainforest and all of its inhabitants. We find a stick insect on the way up
Inkaterra Canopy Walkway
2 observation towers, 8 platforms and 7 hanging bridges each 100ft above the ground to observe the surrounding wildlife in Amazon rainforest.
Chilax
Night walk in Jungle: tarantula, scorpion, other spiders, kane toad
Dinner
---
April 8th — Inkaterra Amazonica
We rise at the crisp hour of 6 a.m., indulging in a swift breakfast at the hotel before embarking on our 7 a.m. riverboat journey to Inkaterra's sibling establishment, Hacienda Concepcion. When we get off the boat we hear the loudest Howler monkeys I have ever heard—not that I've even heard them before, but even if I had, this did not sound real! In fact, all of us thought the camp might have been playing a trick on us by ampliphying pre-recording monkey sounds through a loud P.A. Not the case! These were two groups of real Howler monkeys, high up in the trees, howling and heckling one another. I can't even begin to tell you how horse we'd all be if we attempted to mimic them for even a few moments.
We walk through the hotel grounds and down a path to some canoes, where we board and canoe out in the beautiful marshy lake. There are prehistoric-looking Hoatzin birds everywhere.
Lunch soon follows our morning's adventure
At around 2pm, we take the river boat again and visit Gamitana Farm. Our guide says the rainforest is often considered the world's largest pharmacy. In that regard, we see: Amazon Apple, sour lime, sour Lemmon, star fruit, pumpkin papaya, plantain (melon), Copoazu fruit, big white flesh with big seed (also the frozen cocktail), Camucu, Dragons blood tree (which seems to cure everything), and Cocona fruits. All the while, an Oropendola bird (or several) is chirping the most surreal, almost electronic noises.
A Peuvians we ware with mention to try chirimoya, and perhaps to ask at the Hotel B in Lima to make us one (which we forget to do.)
Massage
Birthday Dinner with some new friends.
---
April 9th — Lima
Breakfast at hotel
Chilax
Airport to Lima
Hotel B
Bday Dinner at Maido
---
April 10th — Lima
We experience the fantastic and chic breakfast buffet at the hotel. Many well-to-do locals have come to enjoy as well.
Walk to Dédalo, an art gallery featuring local works. I continue walking aroung the area, along the bluffs overlooking the sea.
We Uber over to the Plaza Mayor de Lima and visit the Basilica Cathedral of Lima and see the Chapel of Saint John the Baptist, the main alter and chior stalls, as well as the Antisacristy and Brazzini Rooms. There is so much activity happening in the area that the streets are closed to traffic and we have a difficult time grabbing an Uber back to Barranco. Enroute we decide to visit the mall at Miraflores during sunset.
We have dinner at Athabasca and walk to Hotel B for some nice sleep
---
April 11th — Panama City
Breakfast at hotel
Fly to Panama
Check it at hotel Waldorf Astoria Panama
Sleep
---
April 12th — Flight home
Breakfast
Uber to downtown
Lunch at a local spot
Under back to hotel
Airport to SF.