Monday, Sep 24 — Vienna
My train enters Austria and briefly stops at Salzburg Hauptbahnhof. I am tempted to explore the birthplace of Mozart, but time is limited. We pull away and arrive to Wien Westbahnhof railway station in Vienna, Austria, at 1:35pm. I walk for five minutes to Wombat's City Hostel, the Lounge and take a bed for €19.
I tour old city of Vienna at night and visit St. Stephen's Cathedral. Out front there is a highly talented musician playing Beethoven on his glass harp, which is comprised of about 20 wine glasses filled with different levels of water. The tuning of each glass is near perfect and I am mezmorized watching him play, using up to three fingers of each hand on three different glasses to build the chords of the song. He also takes a solo.
---
Tuesday, Sep 25 — Flight to Dubai
I take the train to VIE Vienna Schwechat airport and board Emirates Airlines flight 128. We take off at 3:30pm heading for Dubai, UAE. This concludes my Southern, Eastern and Central European tour.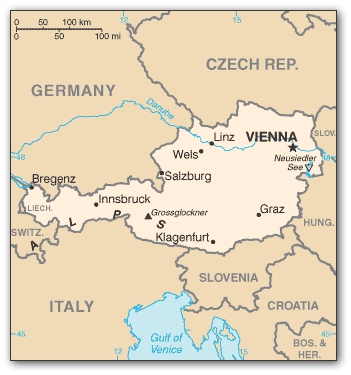 Austria Map