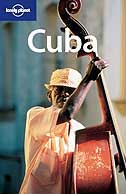 10 May, 2003
Arrive to Cuba, clear immigration no problem. My bag takes about 30 minutes to come out. I meet a German named Enrico. We share a taxi to Havana where we meet my brother at the Capitolio at 3:30P; ½ hour late. We walk around, get mojitos, go to a craft market, visit the Malecón, go to a free concert near the Hotel Nacional. We meet two girls and hang out with them.
---
11 May, 2003
We wake, get a pan con pierna y jugos at the window cafe. We then meet up and go hear some rumba. At night we go to Vedado and see the crazy Havana nights.
---
12 May, 2003
Rumba lessons
---
13 May, 2003
Habana Vieja Walking tour. Castillo de los Tres Reyes del Morro at dusk & the Fortaleza de San Carlos de la Cabañaat night.
---
14 May, 2003
Vedado walking tour.
---
15 May, 2003
This is the day I get really sick. At night we go hear a Cuban rock band in Vedado for 5 Peso.
---
16 May, 2003
Viazul Bus to Viñales. Get a nice casa. Go on a hike to a cave and hike through the valley behind. Discover a tobacco curing barn. I rent a bike to go to the murals. Good dinner. Music at the cafe at night.
---
17 May, 2003
Hire a taxi and go to Cayo Jutias. Meet some Aussies. Meet up in the cave for go singing at night.
---
18 May, 2003
Relax in Viñales. Go to the Indian Cave. Go to another cave. Don't feel 100%
---
19 May, 2003
Go to Cayo Levisa all day, snorkeling, etc.
---
20 May, 2003
Taxi back to Havana, stay in Vedado, meet up with some students from the states and party at the Hotel Vedado bar.
---
21 May, 2003
Touring around Havana Vieja, Partigas Cigar Factory, El Capitolio, Camera Obscura, Bars & Music, ATM.
---
22 May, 2003
Walk around Vedado. Plane back to Ciudad de Mexico.
---
Cuba links
Cuba 1800
— Photos from around Cuba, including some of my own
[ Google translation: →
English
]