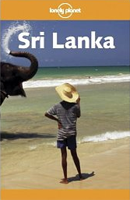 27August, 2004
Sri Sri Lanka is like a breath of fresh air coming from India. Wow, what's that noise? Oh, it's no noise— that's silence. The locals have figured out that constant honking sucks and no one is horning here. And what's that? Oh, it's a woman, and look, she is outside, by herself. And hey, why are these store owners ignoring me as I walk by with wads of slippery cash in my pockets? Yes, I instantly take a liking to Sri Lankan culture and am eager to explore.
Colombo, the capital, is one city that most visitors pass through. But I enjoy the place to its fullest. Not only do I gulp down my first sushi in eight months, not only do I stay in an adorable home-stay with charming locals, not only do I revel on the beach with thousands of other Sri Lankans flying kites, picnicking and enjoying, but I also finally find peace in this part of the world. The only problem though is a nagging fever of about two degrees that seems to come on in the evenings. And this cough from India is causing my lower back to ache. Cough, cough.


Buddha Images
Three days later, I hop on the observation deck of a Sri Lankan train heading east through the rigid central mountains and lush tea plantations. It is here that the locals notice my guitar that I have been lugging all over the world and demand a tune. My head is pounding and cough torturing (cough, cough) but I finally succumb. I begin playing G, C and D chords at random and no sooner does the entire car of 40 people start singing old-time Sri Lankan anthems in perfect unison and harmony. It doesn't matter that my guitar isn't playing the correct melody either as it all seems perfect. Magic arrives and our train floats on for five more songs. A Dutch family on board is overwhelmed and begins video taping and then they bust out some Dutch tunes and the Sri Lankan all start laughing. Am I in a movie here?
Some 12 hours later I arrive to the sleepy town of Arugam Bay known the world over in the surfing community for its incredible left-hand break, warm water surf, fine sand beaches and raging parties. It is here the Jonathan and I trial-and-error for four days until we too are finally rippin'. On my last day, I catch the ultimate wave of my life. I see the swell and paddle hard. I feel that my board has momentum and when I stand and look to my left: There is white. Then I look to my right: And there is aqua. I have finally found it— the sweet spot. Moments later, when the wave ends and I bail, I look around and see a Japanese guy displaying the thumbs-up— meaning "Good wave, bro!" I am hooked. Too bad my time is up— my visa expires in four days and I have to get going…
Singapore Airlines cradles me away on one fateful midnight run. What a nice airline.
---