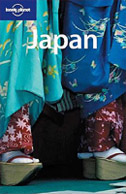 Saturday, 30 June — Tokyo
Everything progresses as planned. I arrive to LAX Los Angeles International Airport and rendezvous with my two MBA friends Samira and Phil. At JAL check-in, we arrange seats close to each other on the 747-400. We board Japan Airlines flight JL0061 and take off at 1:20pm. The 10-hour flight is wonderful and includes great food, an excellent entertainment system and all the others luxuries that have gone missing in domestic US flights, such as ample drinks, eye masks, blankets, etc. I decide to use my computer for a bit but realize that I unfortunately left my computer power chord back in the USA. In an effort to save battery power, I turn off my computer, place it in the black protective case and stash it under the seat in front of me.
After landing at NRT Narita International Airport, we clear customs quickly and instantly locate the correct bus that will transport us from Narita International Airport to the Weekly Mansion Hotel (later called Hotel MyStays Premier Akasaka) located at 2-17-54, Akasaka, Minato-ku, Tokyo 107-0052. About 30 minutes into our 75-minute bus ride, I suddenly realize I have left my MacBook laptop on the airplane underneath the seat. Panic hits as we speed down the Shin-Kuko Expressway. I attempt to convince the driver to turn the bus around, but he just raises his index finger in the air and waves it side to side; my limited Japanese gets lost in translation.
"How can you do such a thing?" one of my classmates suddenly and uncouthly demands.
"It was dark under the seat and camouflaged in its black case." I shoot back, even more irritated.
"How can you forget it under there when you put it there?"
"I used it early in the flight eight hours before landing. I was tired when we landed and I left it there."
My defense is doing nothing but lowering myself to his level while boiling my blood. I decide to mentally unfriend the wise guy. Melissa soothes the air by suggesting that we all make mistakes and JT says bets I will get my computer back and not to worry.
The moment we arrive to the Weekly Mansion Hotel, I run up to the reception, cut the long line, and declare, "I am having an emergency!"
My heart beats fast. Luckily, one of the receptionists speaks enough English to understand my dilemma. The helpful hotel staff locates the correct telephone number and I am soon being comforted by the JAL lost and found representative. She says not to worry and the airplane is scheduled to go to Azerbaijan next, but it has not yet left Japan and JAL will contact me the moment the airplane cleaners find my computer on the plane.
I check into room 231 with my roommate, Shoney. The room is small but nice with all the amenities we will need for the next month. There is Japanese-style robe with a blue floral print and a matching headscarf, which Soney wears. I feel a bit relieved so I decide to go out that night with all my friends and forget about my missing computer.
When I return, a hand written note has been left on my door, "They could find your PC so please call reception on tomorrow morning to Ms Amano."
The next day, a package is waiting at reception. It is wrapped immaculately in brown paper with a layer of bubble paper inside protecting my sentimentally valuable computer. I am relieved. I suddenly realize I picked one of the best airports AND airlines in the world to leave my computer. Japan truly is a safe place and JAL is the best airline! Thank you JAL, friends for life.
And the next day after that a FedEx arrives with my power chord. We are now back to status quo.
---
Monday, 2 July — Tokyo
Simon, Pier and I walk to Ueno Park and then to Tenno-ji Temple. It is similar to a walk Greg and I did a few years earlier through the small streets and a few graveyards.
---
Today we are taking a group tour of Tokyo.
At 12:40P we all meet with Ayako, the program coordinator, in the lobby of Akasaka International Plaza.
At 1:30pm, we arrive to Meiji Jingu, Japa's most famous Shinto shrine dedicated to the Emperor Meiji and his consort.
Around 2:50pm, we ascend the Tokyo Tower and enjoy a panoramic view of Tokyo from its main observatory.
We arrive to Asakusa Kannon Temple & Nakamise Shopping Arcade at 4:20pm. This is the oldest and most popular Buddhist temple in Tokyo. We wander around a colorful shopping arcade leading to the Asakusa Kannon temple, lined with tiny food and souvenir shops. We also visit Akihabara, one of the largest shopping areas on Earth for electronic, computer, anime, and otaku goods, including new and used items.
We drive by the Imperial Palace Plaza on the way home. We arrive to Weekly Mansion Hotel around 5:50pm.
---
We leave Tokyo and arrive to Kita-Kamakura station. The return ticket cost ¥780. We visit the Kōtoku-in temple and take many photos in front of the Daibutsu giant buddha statue. We take a nice walk and head eventually wander down to the beach. Surfers are in the water. It is at the exact point the Yoav asks Tamar to marry him. It is a very special moment. After some time we hit up a kaiten sushi spot and catch the train back to Tokyo.
---
Tuesday, 10 July — Tokyo
I have a ticket to the Tokyo Yakult Swallows baseball game versus Hiroshima Toyo Carp at the Meiji Jingu Stadium at 6:00pm. I decide to walk to the stadium and walk through several neighborhoods and parks. I arrive 90 minutes later, a bit after the game started. We all drink beer and watch baseball.
---
I leave the Weekly Mansion Tokyo and walk to the Akasaka-Mitsuke Station where I board the Marunouchi Line to Tokyo Station. I transfer to the Tōkaidō-San'yō shinkansen and board the Hikari 367 train, car 14, seat 7D. We speed away at 9:36am, on the dot, and arrive to Himeji Station at 1:16pm, exactly on time. I tour the centuries-old Himeji castle. I try my first takoyaki at a food court while waiting for the next train. I hop back on to Hikari train 471, car 8, seat 9D, at 4:29pm and ride and arrive to the end of the line at Hakata Station in Fukuoka at 6:44pm, exactly on time. I transfer to the JR Kamome 43 limited express train, car 2, seat, 11A. We depart at 7:02pm and arrive Nagasaki Station at 8:56pm. I exit the station and walk for 6 minutes until I arrive to the Toyoko Inn Nagasaki Ekimae. My room is small, but fully equipped. There is a color TV, coffee/tea maker, a nice view, and a Toto automated toilet, which offers my first experience of a hands-free elimination. I am thrilled. I take an evening walk and run into some foreigners who invite me to sing karaoke. We sing for an hour before I call it. I am happy to be on the other side of Japan.
---
Saturday, 14 July — Nagasaki
My hotel breakfast has Japanese and western options, but I am must curious about the various pickles on offer. I try them all. After breakfast I walk around and tour the historic sites. I visit tree and other structures that survived the nuclear blast. I find a park where a memorial designed like a cement target marks ground zero. I walk around town and up into the hills, visiting temples, cemeteries, shops and parks.
---
Sunday, 15 July — Hiroshima
After breakfast I checkout and walk to Nagasaki Station. I board the Kamome 12 train, car 1, seat 11A, and we depart at 9:30am, on the dot. At 11:18am we pull into Hakata Station where I transfer to the Hikari 460 train, car 8, seat 3D. We depart at 11:59am and arrive to Hiroshima Station at 1:09pm. I transfer to Hiroshimaeki Station, board the Hiroshima Electric Railway, ride for 13 stops and exit at Tokaichi-Machi Station. I walk for 3 minutes to the J-Hoppers Hiroshima Traditional Guesthouse. I meet up with the rest of the MBA crew, walk around Hiroshima and visit the Hiroshima Peace Memorial.
---
Monday, 16 July — Hiroshima
I take the boat to Itsukushima island and tour the Itsukushima shrine and surrounds. The island is green and there are many small deer and monkeys roaming around. Tourists are quite happy with all the scenery. I hike around a while and take the boat back to Hiroshima.
---
Tuesday, 17 July — Kyoto
We barely catch the 7:46am Hikari 444 train, car 5, seat 4C. We depart on time and arrive to Shin-Osaka at 9:20am. We transfer to Hikari 366 train, car 6, seat 13C, and depart at 9:43am. We arrive to Kyoto at 9:58am, on time. We tour Kyoto and walk along the famed Philosopher's Path. We walk downtown and run into the Gion Matsuri festival. Many people are dressed in traditional attire and are pushing around massive, ornate wooden floats. Some of the floats are on massive wheels while others are held in the air. We head back to Kyoto Station and board the Hikari train 376, car 12, seat 2C. We depart at 3:00pm, on the dot, and arrive to Tokyo Station at 5:43, exactly on time. Exhausted, we all head back to the Weekly Mansion Tokyo. I have some sushi for dinner and call it a weekend.
---
Saturday, 28 July — Flying to China
I take the train to NRT Narita International Airport and board JAL Japan Airlines JL0621. We take of at 2:05pm.