Friday, Oct 6, 2017
We eagerly arrive to SFO San Francisco International Airport, check our bags and are admitted to the United Global First Class Lounge because the biz lounge is under construction. We try to give ourselves enough time to enjoy. We board SWISS 39, sit in seats 7J and 7K, take off from SFO on at 8:10pm and enjoy the nice business class service to Zurich. We land at ZRH at 4:00pm the next day.
---
Saturday, Oct 7 — Venice
Upon landing in Zurich we head to the Swiss Business Lounge. We transfer to Swiss 1664, departing for Venice at 5:45pm. We land in Venice at 6:50pm and haul our gear over to the passenger ferries bound for Venice.
We find the queue for the Alilaguna Linea Blu boat €27 rountrip per person, board after 20 minutes and motor over to San Zaccaria. We get off the boat and navigate the remaining way to Hotel Al Piave on foot through the evening Venetian alleyways. Upon checking in we take another walk, find a cafe that is open late and devour an unmemorable dinner of ravioli with crayfish and spaghetti el mar.
---
Sunday, Oct 8 — Venice
Jet lag aside, we manage to get up at a reasonable hour. Breakfast food in the hotel is standard but there is a dedicated barista who serves up excellent cappuccino.
We head to Doge Palace and buy last-minute tickets to for the Secret Itineraries Tour €40 at Doge's Palace (Palazzo Ducale) which usually sells out weeks in advance. We visit the palace museum and its special exhbit showcasing the Treasures Of The Mughals And The Maharajas: The Al Thani Collection special exhibit. Unfortunately the museum is robbed on some gems are stollen a short time later. After the wonderful tour we visit the Basilica San Marco €5. Inside we buy a €2 upgrade to walk through the back area near the altar for a better view of the interior.
We exit and stroll around Piazza San Marco and enjoy Aperol spritz €18, San Pellegrino €14 and toasted cheese sandwich €17 at Caffe' Lavena on St Mark's Square— not the cheapest but what a view!
We catch a beautiful sunset on the Rialto Bridge and take an extended evening walk north throught the San Polo sestieri. We stop at Acqua & Mais and order a fried shrimp and squid cone which comes with some polenta €5. I also grab a gelato. We then lazily head back to our hotel. For dinner we order linguine clams and grilled fish at Osteria Ruga di Jaffa €55 across the street from our hotel.
---
Monday, Oct 9 — Venice
We wake and barely make our hotel breakfast; the highlight again is the cappuccino which wards off my jet lag haze.
We walk to the Fondamente Nove boat stop and catch Actv 4.2 vaporetto to Murano. We walk around for an hour and enjoy some incredible cannoli. We return on the Actv 4.2 and head to the massive Santa Maria della Salute (aka the Basilica of Health). It is a magnificent place to take photos.
We head to the Peggy Guggenheim museum. Jet lag takes its toll in the Jackson Pollock room and I am snoring within 30 seconds of sitting on white leather sofa in the center of the room. Security instantly wakes me.
We stop by Gelato Nico and enjoy some coconut gelato. Yum. We catch a classic sunset, complete with photos, on the Ponte dell'Accademia bridge.
We have dinner at Tratoria al Gazzettino. The waiter suggests chef's choice which includes a tender octopus and seafood salad with creamy polenta, linguine with clams and tomato, seafood fettuccini, and branzino. The chef brings out the fish on a plater for show and then returns to the kitchen to filet the fish. Many complimentary shots, including Venetian digestif, are offered.
Afterward we board Actv Line 1 for a must-do night cruise along the Grand Canal to St Marks Square, for a final wander. What a day! Bye bye.
---
Tuesday, Oct 10 — Ljubljana
Hotel breakie again, our last wonderful cappuccino. I walk to the San Zaccaria D boat stop and catch the Actv vaporetto Line 2 to San Giorgio Maggiore island where I tour the iconic church and surrounding grounds. There is a photography exhibit on display.
I catch the waterbus back to San Zaccaria, visit the Chiesa della Pietà church, and explore the neighborhoods to the east and north and stumble upon the Venice Biennale, a contemporary visual art exhibition that features art from countries all over the world. In this effort, I visit the Mauritius, Mongolia and Andorra art pavilions.
Back at the hotel, we grab our bags, check out €525, and hustle ass over several bridges to the Otellio station. We take the Alilaguna boat back to airport and grab our car from Hertz. We enter the Autostrade and head for Slovenia. On the way we stop at the Autogrill Fratta Sud and an excellent lasagna and salad. We continue on to Ljubljana.
---
Wednesday, Oct 11 — Cortina d'Ampezzo
After driving for hours from Slovenia through Austria we enter Italy around 9pm. Nearly fourf minutes from the hotel Zara spots an adorable mini-RV and exclaims "RV" and we no sooner hear the car make a loud bang. I thought we hit a parked car so we pull over, but luckily we just hit a curb with no damage to the car. It sure was a loud bang though.
We find the Hotel Meublé Villa Neve, park and check into a small but fun room on the fourth floor with a balcony. It is dark outside so we cannot yet see the view. I head back downstairs and grab a decent marinara pizza from Ristorante Pizzeria Il Ponte next door. It is very tasty.
---
Thursday, Oct 12 — Verona
We wake early and I am floored when I go onto the balcony and look at the view. We are surrounded on all sides by tower rock peaks that contrast against the green fields below, which are in turn dotted with mountain chalets. It's like a movie. We skip an overpriced breakfast at the hotel and instead wander around the fun town. I later learn this is a prier wintersport destination.
We find a small place called the Rock Cafe and enjoy cappuccino. Epic drive over a pass through the Dolomites. Pasta and wilted lettuce salad at roadside cafe.
We drive down the mountains, passed sheep and into the valley below. There is some noticeable air pollution.
We drive into Verona and check into the Hotel Giulietta e Romeo, with balcony upgrade.
For our evening walk we visit the Juliet balcony, stop at the Salumeria Gironda (Via Ponte Pietra, 24A) for take-out mortadella, local cheese, olives and bread €8.95 and eat at the Piazzale Castel San Pietro with its incredible view.
We then walk along the river and enjoy a good Campari soda and bad tea in a cafe on the Verona arena square.
---
Friday, Oct 13 — Panzano in Chianti
After a decent hotel breakfast we enter the Verona Arena. The experience is not quite authentic because they are setting up for a concert and there are gear and barricades everywhere.
We walk al over the old town and try to find a decent spot for lunch. After a frantic hangry walk we find Antica Trattoria dall'Amelia. We enjoy a lunch of excellent polpette (known here as Grandma's meatballs) and an off-menu menu misorder of risotto alla Veronese. We share a wine and the bill is an easy €36. Verona.
We pack the car, get lost trying to navigate out of the old town and eventually find the road towards Tuscany. I turn on the "avoid highways" setting in Google maps and we proceed to get lost in the windy back roads of the famous Chianti and Chianti Classico wine regions.
We arrive to Villa Le Barone. We are given a wonderful room in a farmhouse villa with a beautiful view of the Tuscan countryside. It is magical. I take a swim and we enjoy the epic sunset. I take a bath and we head to dinner in the on site restaurant. We share chicken, fried salted bass and excellent antipasto buffet spread, Tuscany style. It was a great day.
---
Saturday, Oct 14 — Florence
We enjoy a wonderful farm-style breakfast and reluctantly pack; I wish we could stay longer. After packing the car we head to Poggio Amorelli winery and experience a 5-glass tasting with cheese. On the recommendation of a college friend we proceed to Castello di Verrazzano and do another wine tasting.
Afterward we drive to Florence. I try to fill up the gas tank but my credit card is rejected. Unfortunately I drive away with the gas nozzle still stuck in the car and pull the nozzle out of the gas dispenser. It is really embarrassing and everyone is staring at me in disbelief. I try to put the nozzle back together but gas spills all over me. Defeated, I wash my hands and we drive away.
We check into the Hotel David and I return the rental car. Unfortunately, Google maps instructs me to drive down a road adjacent the Ponte Vecchio bridge and, many months later, I am tickets, twice for at least €180. Car renters, beware.
I return to Hotel David to an incredible and happy hour with gratis food and wine. The olive oil marinated artichoke hearts are to die for, and it seems no one else notices, so I eat most of them; I will never view a marinated artichoke the same.
At night we walk into town at night and have a surprisingly good dinner at Mr Pizza. My Yelp review asks: How cold Mister Pizza be any good? I mean it is smack-dab in one of the most touristy places on Earth. They could practically serve shit and get away with it because of no need for repeat customers. And I guess you could ask why would I possibly eat here? Well, we were desperate one evening, having walked all day and we had to sit down. We walked passed this place and all the thin-crust pizzas looked fantastic. Yes, I was super hungry, but even in this hunger I would still pass by most any pizza-to-go place back home in the USA. But what enticed me here even more was the epic outdoor seating right next to the Duomo. So we sat. (Do note, there is a €2 seating fee, but that is customary throughout touristy Italy.) We ordered the vegetarian thin-crust pizza with rocket (arugula) and marinara and a glass of chianti. The pizza took about 10 minutes-- a good sign-- and when it finally came I think we devoured it in about 2 minutes. My stomach is rumbling right now just writing this review. It's a solid four stars. Not the best pizza in Italy, but it was good enough, prob better than most any pizza you would get at home, and was super convenient. Would I eat here again? Yes, in a heartbeat.
---
Sunday, Oct 15 — Florence
Hotel David includes a great breakfast. We catch a bus to Galleria dell'Accademia €24 and see Michelangelo's David sculpture (with scores of others). The rest of the museum is excellent.
For lunch Zara finds a local spot called Sandwichic. The ordering process is educational and I settle with a local fennel salami focaccia, pepper sauce, sweet peppers and lettuce wrapped in freshly-baked focaccia bread, €20 for two.
After lunch we walk all the way to Ponte Vecchio, which is a medieval stone closed-spandrel segmental arch bridge over the Arno River. On the other side of the bridge we head up hill and take a long walk behind the rose garden. And then I discovered my gelato place, Il Gelato di Filo located on Via San Miniato 5R. Now this gelato place redefines the word gelato. It's pure, fresh and not too sweet. The focus is on pure fruit, in season, with very little added sugar. Once they sell out, it's gone-- they don't have a "fresh" tub in back waiting. I suggest what's in season, just ask, but for me it was persimmon for only €2, inclusive. It was here that I confirmed my theory, if a place sells gelato in tubs that's piled very high, like in the tourist area, move along because it is mass produced, without love. If instead, you find a place where there is a limited amount of gelato in each tub, take a closer look because you may have found your next gem. This place belongs in the latter camp.
After my gelato enlightenment, we walk up many stairs to Piazzale Michelangelo for an stunning dusk view of Florence. Afterward, I decide we need more gelato so we return to my new spot. We return to Hotel David for another happy hour and my marinated artichoke hearts. We change and meander back into the old town.
We have an outstanding dinner at Bottega Conviviale. We sit outdoors and enjoy prosciutto from Calabria with burata cheese, the Bottega vegetable garden, zucchini soup, duck and lemon spaghetti and guinea fowl with romaine. We pair with a Montepulciano. €70.50. Would beat just about any meal at any price in San Francisco. Too full to walk back, we hail a taxi and enjoy the ride. What a day!
---
Monday, Oct 16 — Florence
Breakfast is served at Hotel David. All our clothes are dirty, and laundry is quite expensive at the hotel so we visit Lavanderia Laspri nearby and clean away. While the machines are spinning we walk around and visit the local butcher and market at Saccardi & Panichiand some other small shops. We gather our clean clothes and I realize it is an empowering experience doing your own laundry while on vacation in a foreign country. It becomes a good memory (and I reckon we saved about €200 on hotel laundry charges.)
We catch the bus to Panini Toscani, another epic sandwich shop. I order the prosecuto and pair with a brunelo wine. We walk to the train station and sort our plan to train to Cinque Terre. Once sorted we visit the Duomo. We share a tickets so Zara goes to Baptistery while I climb the Duomo bell tower. After many steps I find a gorgeous view. Afterward, Zara convinces security to let me into the Baptistery as well. We shop around and catch a lovely sunset on covered bridge.
On the way back to the hotel, we stop at our favorite gelato shop, Il Gelato di Filo, and bid farewell. More incredible happy hours apps at the hotel. Night.
---
Tuesday, Oct 17 — Monterosso al Mare
We check out after a nice last breakfast at Hotel David. The staff gives us several small souvenirs.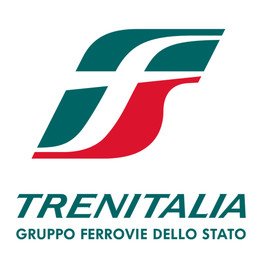 We catch a taxi to the train station and board the Trenitalia local to Pisa. In Pisa, an announcement in Itallian informs our train to La Spezia is canceled. It is a bit frustrating and the train platform is jammed with people. Eventually a double-decker train for La Spezia arrives everyone piles in. There is barely enough room and we are stuck standing in the front of the train car by the door. An man next to us is yelling in Arabic on his cell phone. He continues yelling into his phone well afte the train pulls out. I chat with an African guy about our situation. He seems used to it and is calm.
We finally arrive to La Spezia Centrale railway station and catch the Genoa–Pisa train for Monterosso al Mare. The train stops at every terra (village) along the way and goes through many tunnels. The sun is setting and when we are not in a tunnel there are colorful views of the sunset over the ocean. It is magical. At our stop we lug our luggage off the train and find our way up the windy and occasionally staired path to Hotel La Colonnina. We are given a room on the top floor with a gorgeous terrace.
For dinner we avoid all the tourist cafes on the street and find Gastromonia San Martino in a back alley. At first we are hesitant, but decide to stay. We order octopus salad and salmon. The octopus is as tender as tofu and I instantly revere this place.
After dinner Zara returns to the hotel and I take a walk. I then lay out on our terrace and gaze at the night sky. I wish I could stay here much longer.
---
Wednesday, Oct 18 — Cinque Terre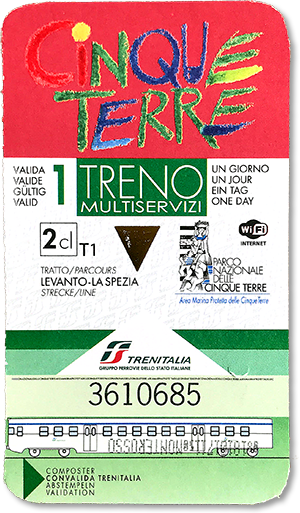 Breakfast at hotel. Grab a cappuccino and cafe latte at Bar Centrale and some snacks at the Wonderland Bakery. We buy Cinque Terra pass tickets at the Parco Nazionale Delle Cinque Terre office for €32 take the train to Vernazza. It's a fun ride.
In Vernazza we hike up to Castello Doria for beautiful views of the town and coastline. In town we walk down to the haror. Color is everywhere, the blue and aqua boats, the turquoise water, the orarnge, coral, yellow, pink, tan village dwellings perched on the surrounding hills with green olive trees aboove the village and gray rocks beneath holding the village up from the aure Ligurian Sea beneath. Back in the village we find a small cafe Lunchbox and eat on the terrace.
We continue our hike, taking in excellent views over Vernazza and then continue our hike to Corniglia. On the way stop at the rest house with the epic views to the east towards Corniglia. In Corniglia, we wander around the hill town for 30 minutes. We wind down the 377 or so stairs of Scalinata Lardarina to Stazione Corniglia and catch the train to the next terra, Manarola.
In Manarola, I enjoy a well-deserved tangerine gelato at 5 Terre Gelateria. The server tells me the gelato is made in house, in small batches and using fruit in season. It usually sells out each day. The only real problem eating gelato at a place like this is that once one is done you want another, even if you don't really have a sweet tooth. We wander down to the boat harbor and catch the last ferry back to Monterosso and enjoy superb dusk view.
Once of the baat we have a sunset drink at Nuovo Eden. We sit on the tearrace and enjoy the evening sky. Without hesitation, we head back to Gastromonia San Martino and order seafood salad and lasagna with white wine for our dinner.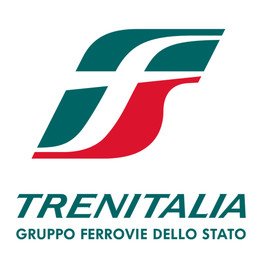 We catch the night train to La Spezia Centrale and arrive in time for our 11:09pm train to Salerno. Unfortunately the train is more than two hours late, and it is cold out. We head to McDonalds and seek refuge there until they close at midnight. We spend the rest of the time waiting on the frigit train platform. Eventually Trenitalia night train 35083 arrives and we board carriage 3, seats 31 and 35; we have the entire cabin to ourselves. We soon head south to Salerno. The train is loud and I have a difficult time falling asleep—we had such a great day and tomorrow will be a great day; my mind is spinning with excitment.
---
Thursday, Oct 19 — Positano
It is tough to sleep on the night train for some reason. We are to Salerno at 7:17am or so. We get off the train and find the bus stop to Amalfi. After 30 minutes the bus comes. If you take this route, be sure and grab a window seat on left side, if you are facing forward. The views are exception. The bus winds back and forth on the road going in and out of various valleys, passing small village after small village, and providing excellent views of the seaside, beach resorts, small cafes, hotels, and homes. I take about 100 photos. Zara becomes car sick and tries to sleep. I try to keep her awake because the views are fantastic.
We arrive to Amalfi and decide to take the ferry to Positano. They ferry provides a different vantage to view the coastline and is recommended. We are to Positano, but realize our hotel is up the road a bit, emphasis on up. We lug our bags up the path, over stairs and other obstacles and finally arrive at Palazzo Murat Hotel.
It is still too early to check in so we change in an adjacent unused room, throw our stuff in storage, and walk around town. It is just gorgeous. I buy acqua gassata from the Paradise Lounge Bar and we climb up to the top of the village and grab a breakfast at Collina bakery.
We walk a lot more and then settle down for lunch at a recommended hillside cafe called Da Vincenzo. We order grilled octopus covered with shishito peppers (polpo arrosto e pepe shishito), an interesting shrimp ceviche served in a hollowed whole tomato and top of creamy burrata cheese (pomodora ripieno di crudo di gamberi e burrata), fresh fried anchovies (yes they taste fantastic), and a deconstructed tiramisu.
We continue are walk and are surrounded by mesmerizing views everywhere. We stop into one shop which has a view but are kicked out because the clerk senses we are there just for the view. We go next door, but the same clerk follows us and kicks us out again. (Rude clerk.) We pass by Piazza Navona.
We head back to the hotel, but our room lacks privacy, so we are upgraded to a Superior side sea view terrace room, in the new wing, with the James Bond view of the entire north slope of Positano village and a partial sea-view. We have a balcony that is covered in vines and flowers. It's perfect. I need to book this exact same room next time.
As the sun sets, we take a walk down to the beach Grande Spiaggia and onto a floating dock for National-geographic dusk views of Positano. Cameras are clicking but nothing can capture the magic.
For dinner we dine at the hotel restaurant, a Michelin-recommended spot called Al Palazzo Restaurant. It's an incredible evening.
---
Friday, Oct 20 — Rome
Breakfast at the hotel is stellar and the ambiance is perfect. We reluctantly check out, trust me, this is a difficult room to leave.
Zara decides to go shopping while explore the west end of town. I walk along Via Positanesi d'America. It is a wonderful walk on a tiny road that winds along the cliff above the azure ocean below. Flowers are in bloom. I pass through a cave and end up inside the Hotel Ristorante Pupetto. I exit the hotel and am on the semi-private Fornillo beach. I walk further down the beach until the trail ends. I turn back rent a beach chair from the Pupetto and enjoy a Campari spritz and take a swim.
After an hour I head back to the hotel, jump in the swimming pool, and dry off in the garden in the afternoon sun. After another hour the driver we booked from the hotel meets us in the lobby and the porters lug our bags up Viale Pasitea to a black Mercedes limo sedan. We get in the car feeling a bit like rocks stars, while the drive does a three-point turn and navigates us out of the village. The drive to Napels takes about 90 minutes and on the way we stop and buy tomato seeds.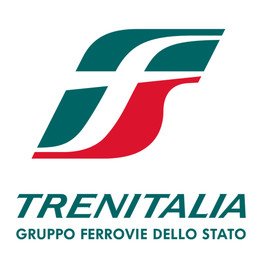 The driver drops us at the Napoli Centrale railway station. Thank you Luxury Limo Positano €130. We buy tickets for Trenitalia Frecciarossa high-speed train 9660, carriage 5, seat 10D, 11D for €45 each, and depart Naples at 6:40pm. We head north and arrive to Roma Termini railway station around an hour later at 7:48pm. What a nice, quick ride!
In Rome we walk to the small Al Viminale Hill Inn & Hotel and check in. After our room in Positano, this place seems like a dog house. It has the vibe of an hourly hotel. Neon lights, an in-room corner shower capsule, and no blankets. The room doesn't smell good either. It is OK thought as we are just staying one night. I hide my valuable and we eagerly walk around town.
On our walk we pass the Pantheon and near Piazza Navona we find a lively Roman-themed restaurant called Virginiae. We sit outside, enjoy a house Montepulciano wine, Maldera burratina with sun-dried tomato, baked lamb with potatoes and in-season porcini mushrooms with pasta €47.50. The food is outstanding and the guy sitting next to us, a frequent patron who knows the staff, says we found the only honest place in the area. Full, we head back to the hotel and sleep soundly.
---
Saturday, Oct 21 — Rome
We check out of our hotel, breakfastless, and head over to the The Westin Excelsior for an early check-in. We are upgraded to larger room.
After unpacking, we take a taxi to the Vatican City and search for the Vatican Museums. We are bombarded by tours claiming to be official tour guides. They are all scams. They tell us there is no way to buy tickets to the museum at the entrance. This is untrue. We pass security, enter the museum and buy tickets at the regular biglietteria, aka ticket counter, for €20 each.
We enter the museum and it is massive, not Louvre-like, but still pretty large. In one room we pass a Vatican philately exhibit showing Vatican stamps from the last one hundred years. It reminds me of my collection Uncle Marlow gave me as a child.
We walk for hours through the museum and end up in the fabled Sistine Chapel. It is jam-packed with tourist trying to sneak photos and a man yelling in a very strong accent "No photos; NO PHOTOS." It is an anticlimactic experience. After exiting the museum we enter St. Peter's Basilica. This is my second time inside and it's very impressive. Exhausted, I leave the cathedral and relax in Piazza San Pietro.
We grab pizza at the highly-rated nearby Pizza Zizza. It's pizza by the slice (rectangle in this instance) place and we try the zucchini, pesto marinara, pesto burrata, and chicken cheese. All pieces are excellent.
We walk down Via della Conciliazione, passed the Castel Sant'Angelo and grab an taxi back to the Westin.
---
Sunday, Oct 22 — Rome
In the morning we take a taxi and visit the Chiesa di San Pietro in Montorio. From there we descend into the quaint lanes of Trastevere and find the cute Eggs cafe.
We cross the Ponte Palatino bridge and emerge into ancient Rome. We walk the forum and enter the Colosseum. It is as busy as a sporting event, but everyone is here just to see the venue! We get lost trying to exit but eventually find our way out.
For lunch we grab a panini at Pan Bernardo. We walk to the and to the awe-inspiring Trevi Fountain. We grab a site among the hordes and spend time enjoying the fountain and the surrounding scene. There is a lot of good people watching.
We walk back to the Westin passing many intriguing buildings and fountains on the way. We return to Virginiae for dinner again, sit outside, and try their bruschetta sampler with sun-dried tomato, pesto, fresh tomato, pickles and olive oil options as well as roman chicken with peppers and homemade lasagna We pair with a house Montepulciano wine. Once again, place delivers.
We taxi back to the The Westin Excelsior and pack our bags for our journey home. It has been a life-changing trip and we are sad to leave.
---
Monday, Oct 23 — Flying home
We take a taxi from the hotel to FCO Leonardo da Vinci–Fiumicino Airport for €48.00. We board Norwegian Air International 1000 and take off at 8:55am. We land at ARN Stockholm Arlanda Airport at 12:05pm. We visit the Menzies Business Lounge. Norwegian Air Shuttle 7067 and take off 1:25pm and land at OAK Oakland International Airport at 3:00pm and take the BART home.