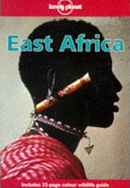 19 July, 1998 — Arusha
We leave Amboseli (Kenya) completely satisfied and head for the customs where we pay $50 US for a Tanzania entry stamp. Looks like this is going to be an expensive one. We pass immigration and customs, but are delayed because Greg misplaces all the student cards, and momentarily loses his ability to speak, or function for that matter. He calms down, we locate our documents, pass into Tanzania, and are on our way to a grueling 100 K drive to Arusha. We arrive tired and hungry and feast intently on pizza and Safari Lager at the Masai Camp. What a day.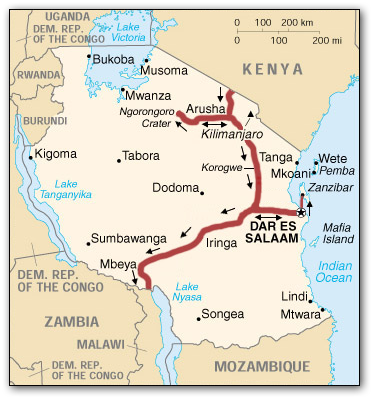 ---
20 July, 1998 — Arusha
July 20th goes down in my book as an interesting, yet frustrating introduction to the Tanzanian tourist agenda which basically get as much money as possible. As we walk around downtown Arusha, we are constantly approached by touts and hawkers. They are everywhere pushing expensive safaris ($100 US/day) to the Serengeti (5 day minimum) and ugly curios that should cost a fraction of what they are trying to get now. We are opting to not take Breakfast to the Serengeti because we hear the roads are terrible. We don't want to risk a breakdown in the middle of the bush. All the other options are cost-ineffective, though, so it looks like we might not go to the Serengeti after all, but we will see. Among all the chaos and rip-offs, we manage to find a pleasant restaurant with local prices. We eat beans with rice and greens while contemplating our next moves. Can't beat the price of 600/-.
The day's events change when we meet some South Africans who subsequently invite Todd and I to potjie and beer and conversation. Are new friends are quite friendly and liberally opinionated people (as many South Africans are) and they explain a lot of their ideas on South African racism and politics. They encourage us to go to the Serengeti via a plan that would eliminate much of the cost. Later in the evening, we make the decision to go on safari to the Serengeti, Breakfast style. We believe she is up to the job. Our friends have given us confidence. And besides, could we really miss "Africa's Best Game Park"?
I fall asleep excited about the coming days.
---
21 July, 1998 — The road to the Ngorongoro Crater
Today we wake up early, hit our newly found restaurant in town, and hit the road. I drive smooth tarmac and then corrugated and sometimes smooth dirt. On the way we get a flat tyre, and upon changing it, the jack gives way and Breakfast collapses to her naked hub like a sinner kneeling for mercy. Ouch. A little help and several minutes later everything is sorted and we are on our way. Our goal for the evening is the town outside the Ngorongoro Park entrance, a town know only as Safari Junction.
We end up staying at a rather bizarre and barren campsite on hill named inappropriately the Kudu Camp. (There is know wildlife to be seen.) For dinner, I use our newly acquired wok to prepare a stir-fry pasta Santa Cruz style. It is good. We drink a fine South African Cabernet Sauvignon supplied by Peter, one of the talkative South Africans we spoke to the night before. The we hear drums and head over to a Tanzanian drum jam soon turned market. Very interesting.