Sat, July 8, 2017 — Santa Eulària, Ibiza
I check out and take a taxi to MAD. After security I visit the VIP Lounge Puerta Alcalá. The lounge is massive, modern and mostly empty. There are great views of the airport apron and various aircraft. Plenty of food, sandwiches, wine, beer and cold beverages are available. And clean bathrooms. I just wish lounges could be like this back home. In a good mood, I board Air Europa 6027 bound for Ibiza. We take off at 7:25pm. The evening dusk view of the Balearic Sea and its islands is magnificent. We land at 8:35pm. I grab my bags, head outside into the warm Mediterranean air and I am happy. I somehow find Jubi and family. I hop into their rental car and we drive to Santa Eulària and search for our Airbnb, Villa Can Tardia, aka Tardia House, aka Villa Pinar, aka Villa Hermosa. It's a decent house with many rooms, some better than other, but with great grounds, a nice pool, and plenty of hangout areas. We are happy enough.
---
Sunday, July 9 — Santa Eulària, Ibiza
We have a nice pool day. I head into town and rent a bike from Kandani and bike home along the waterfront, atop the bridge which runs over the Riu de Santa Eulària river, then up, down and around windy country roads, passed fields, with occasional buildings and stone walls. I pull to the shoulder of the narrow roads when cars speed by. I finally make it home in the late afternoon. For dinner we head into town and up a windy road. We nearly get lost but end up to Sa Finca restaurant. The property has nice view which match perfectly with the setting sun and colorful skies. There is a bougainvillea tree that is in full bloom. I order swordfish and gazpacho and dip up the soup with some warm bread and Spanish olive oil. We pair with Spanish wine. It is a wonderful group dinner.
---
Monday, July 10 — Santa Eulària, Ibiza
After breakfast we drive to the north end of Ibiza island to Cala San Vicente. After parking we find a beautiful aqua bay with a wide, light-sand beach filled with many almost-nude people, beach blankets and umbrellas. It is quite hot and sunny out so we buy some beach umbrellas, set up on the beach, and go swimming. This is a quintessential Southern Europe summer beach day and everyone is out and enjoying. A tout walks by and sells me an auburn and white elephant beach blanket. The price is high, but I like the tout so I agree to buy it after a small haggle. I grab a gazpacho at Playa San Vicente Restaurante. We hang out there all day. The kids are very happy. At one point, Jubi's umbrella gets uplifted in the wind and hits some folks behind us. They don't seem to mind. At the end of the day we head home, make dinner and hang out by the pool.
---
Tuesday, July 11 — Santa Eulària, Ibiza
After breakfast at home, we visit Cala Llonga during the day. The deeply inward bay and surrounding hills are quite nice but the sea water is not as clean. We all prefer the beach the day before. For lunch I head to the south side of the bay to the Palladium Hotel. I sneak a quick shower and have lunch at Vista Mare cafe. I order grilled fish of the day, which I think is barracuda, and pair with a dry local wine. It is quite tasty. After some time we head back to the villa. In the evening, the guys drive into Ibiza old town. We try for hopping La Bodega, but there is a wait and we are eager, so we settle with La Esquina which serves up some great cocktails with outdoor seating next to the road. There is great people watching. I grab dinner with Andre at La Imprenta; it is a fantastic spot with excellent service in the heart of Ibiza town. My octopus starter is a signature dish and is tender, savory, and is consumed too quick. Our other app, Iberian ham, is served on a massive metal pillow platter. The ham is delicate, tasty, aromatic and again, goes down too quick. We share a foie gras and duck paella which arrives in a unique rectangular pan. The rice is cooked perfectly, with the slightest resistance to your chew, and the duck is sparingly placed throughout the dish. Considering the rich ingredients, the dish is surprisingly light and gentle on the stomach. We pair with a wonderful bottle of Chablis and of course the mandatory warm bread. After dinner we look inside and upstairs at the fantastic interior design. After dinner we meet with the rest of the folks at Teatro Pereira for live music with gin and tonics. The tonics are Schweppes premium ginger and cardamom, pink pepper, and lavender and orange blossom. We then walk along Avinguda de Santa Eularia des Rui and end up at the hopping Keeper Club, a great local spot at Passeig Joan Carles I. The Latin theme encourages everyone to dance. Around 4am we manage to head home.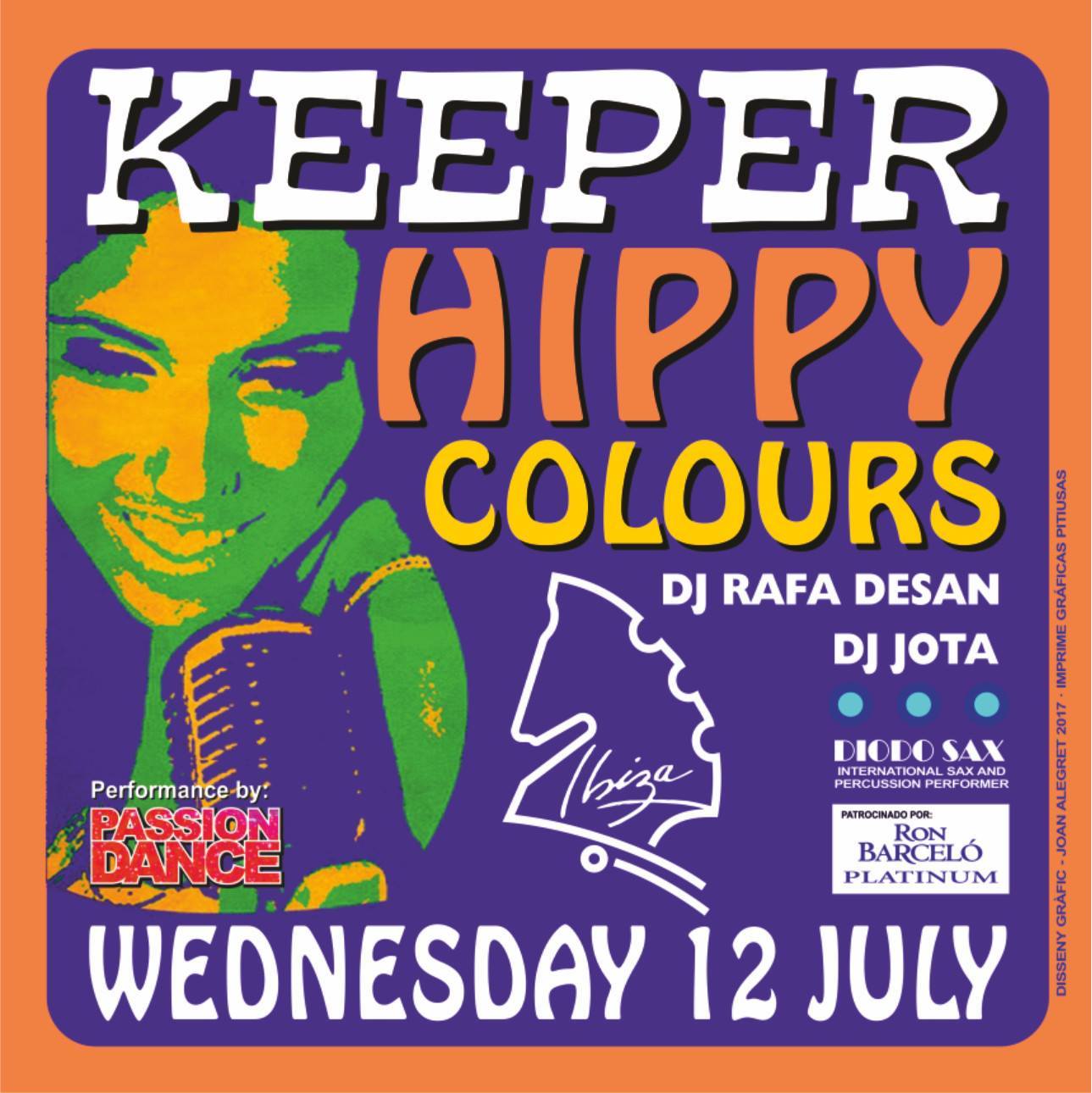 ---
Wednesday, July 12 — Santa Eulària, Ibiza
We have a chill day recovering at the house. In the afternoon we drive to the west side of the island to Platja de Comte and visit the Sunset Ashram cafe and surrounding beach. The water is a beautiful aqua; sailboats in the distance rock gently in the sea. The views from the covered terrace of the Sunset Ashram offer superb views. A hip DJ with some well-placed tattoos is spinning a perfect down-tempo groove. As the sun sets the entire sky turns gentle hues of orange, yellow and red. People are jumping in and at of the ocean, others are posing for the perfect sunset silhouette photo. Everyone is in a state of bliss. Once dark we head home. I navigate while Shoney drives the maze of roads home. Back at home we enjoy the evening with wine and chocolate.
---
Thursday, July 13 — Santa Eulària, Ibiza
We have another chill pool day. I take an afternoon epic ride back into Santa Eulària, along the Platja de Aanta Eulalia tiled promenade, There are many cafes, bars and shops along this pedestrian drag; I would like to stop at each them for a moment. I continue along Passeig del Port and beyond the town, through the seafront grounds of the intriguing Hotel Catalonia Royal and idyllic Ses Savines cafe. I then bike atop the red dirt bluffs of Punta des Farallo bay and beyond. I could bike forever but I have to return the bike. I catch the IbizaBus L13 into Ibiza town. I hike up to Dalt Vila of Eivissa and explore the old town. The views at the to the east and south go on to the horizon. The sun sets and I am at peace. I explore the bar streets of Ibiza town and walk along the waterfront. I am floored at how many cafes there are, each with abundant outdoor seating, all filled to the brim with hungry patrons. The restaurants go on and on down the main street and side streets; there must be thousands of people enjoying the evening with wine, cava and tapas. I managed to find the bus stop and bus back to Santa Eularia. I catch dinner on the promenade at Restaurante Atenea and order the classic grilled lubina and gazpacho, which is served deconstructed. The fish is great and I am happy the kitchen was still open to serve me. After dinner I taxi back home to meet the crew. Eduardo and Tamara have arrived. We have a great party into the night. Somewhere around 2am I sneak off to sleep.
---
Friday, July 14 — Pisa
I wake in the morning, sad to leave. I order an Uber to Ibiza Airport and board Ryanair 8875 to Pisa, Italy. I wish I could stay in the Balearic Islands longer.