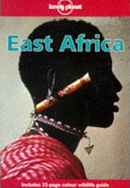 28 June - 4 July, 1998 — Bwindi Impenetrable National Park, Uganda
This week of my life was filled with many hopes an inspirations in addition to meeting a lot of great people. The drive to Bwindi Impenetrable National Park went smoothly. Well, as smooth as a Central-east African highway could afford. Of course I had brief stomach pains reminding me of the greasy samosas we wolfed down at the Hot Loaf in Kabale. The drive to the park, 91 K's on dirt, was fun. Entrance to the park $40.00 US was a frustrating blow, but gave us unlimited time. Ultimately, though, it was quite a fair price.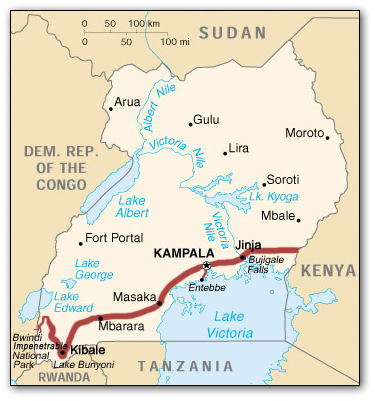 Our timing was impeccable. All the 100 person, two week waiting list rumors proved false, as the four of us became fifth through ninth on the waiting list.
We set up camp in a banda. Noting that we are now in a rain forest, I expect to get wet, but anything is worth a chance to see the gorillas. Afterall, we've come all this way. The next several days seems a blur. I remember getting extremely upset with Todd because of his unwillingness to discuss future plans, mainly, my wanting to spend ample time in Malawi. Chris is flying to Harare on the 12th of August, and Todd's needing to be back in November for Ryan's birth. I take a walk by myself. I wanted to relax and think things through.
The next morning, after meeting a nice couple from Maui—the Hymen's—I trip out again because Mr. Hymen comments about how great Malawi is. What should be a month in a great country is seeming to become a speed chase similar to the Moyali/Isiolo segment. Ahh. I don't talk to Todd for two days and give him dirty looks. Amongst all this, we meet two English girls. Helen & Kate. They are delightful and take all my frustration from Todd's incommunicable tendencies. We play hearts together and go on several hikes. Helen is really cute, but she has a friend elsewhere, and Greg flirts with Kate in the strangest fighting way. He translates this as attraction; I just shrug me shoulders in confusion.
We decide to take another hike with Amis. We hike into the Congo, former Zaire for a while. Awesome, but we meet no Congoman.