My Baggage Theft, Zimbabwe
August 2, 1999
RE: Baggage Insurance Claim
Dear Claims Department Representative:
In the early morning hours of August 20, 1998, the articles reported in this letter were stolen from the vehicle that I was traveling in at the time. This vehicle (1980 Toyota Hilux; Reg. # CA74377) was forcibly entered via the triangular window on the left side of the car. The thief(ves) damaged the window of this car and was/were thus able to enter the vehicle. As a result, my large internal frame backpack, and all its contents, was stolen out of the vehicle. All the items that were stolen from me were new and were bought from the store exclusively for this trip (exceptions are item #s 25 & 26 on following page.) None of the items stolen from me were ever retrieved, as was learned during subsequent visits to the Zimbabwe police station.
The above event took place in the parking lot of the Backpackers & Overlanders Lodge, P.O. Box AP120, Airport, HRE., Harare, Zimbabwe. The owners of this lodge took no responsibility for the theft. The owners of the lodge assisted in the police investigation and followed all laws and regulations regarding tourist theft policy in accordance to the laws of the Republic of Zimbabwe. The owners of Backpackers & Overlanders Lodge held no responsibility for the items stolen from me because the items were not taken from the indoor confines of the lodge.
My motherwho acted as my contact herecontacted AIG immediately following this incident. An AIG representative said that I should file this claim upon my return home, which is now.
I was covered under the Plan BBaggage Protection policy at the time the possession listed on the next page were forcibly stolen from me. This policy states that:
"Insurer will reimburse you up to the maximum shown on the Schedule of Coverages for loss, theft or damage to baggage and personal effects. The Insurer will pay the lesser of the following: actual cash value at the time of loss, less depreciation as determined by the Insurer, or the cost of repair of replacement… ."
According to the policy coverage statement, and due to the circumstances of the theft of my belongings, I am entitled to a full compensation of items stolen (totaling $814.42) or replacement costs (totaling $579.66) as determined by you. Please note that the exclusions of this policy do not apply to me as my circumstances fit within none of those listed under the policy given to me by Council Travel. This was verified during a recent telephone conversation with a Claims Department Representative who stated that belongings stolen from a car are covered under this policy. I have a recording of this conversation on audio cassette.
The following submission contains detailed information regarding the items stolen from me while I was covered under the above policy. Included with this letter are:
An itemized list of items stolen from myself on August 20, 1998.
Original police report from Zimbabwe Republic Police, Hartfield Station, verifying the occurrence.
Copies of original receipts of items stolen
Copies of receipts of items replaced and sent me while abroad.
I would like this claim to be followed up in a timely manner, and I plan on receiving my compensation of at least $597.66 no later than Sept. 15, 1999. If you have any further questions, please feel free to contact me.
Yours Truly,
Me
Itemized List of Items Stolen

#
Quant.

Description of Item

Price

Receipt
1.

1

Green Osprey Highlander Backpack

$343.45

2.

1

Replacement Osprey Highlander

$319.00

3.

1

Black Osprey Backpack cover

$25.00

4.

1

Replacement Osprey Backpack Cover

$24.00

5.

1

Merrill M2 Hiking Boots

$125.00

6.

1

Replacement Merrill M2 Hiking Boots

$125.00

7.

1

Arnet Raven Polarized Sunglasses

$102.25

8.

1

Casio Personal Organizer

$32.39

9.

1

Blue Jandt Day Pack

$45.00

10.

1

Replacement Day Pack (Schoolbag)

$26.66

Replacement Shipping via Fed-Ex Costs:

$103.00

11.

1

Blue Polyurethane Scuba Mask & Snorkel

$25.00

12.

1

International Drivers License

$10.00

13.

1

Various Speed Film (Kodak, Fuji, Agfa)

Varies ($2.50+)

14.

1

Banana Republic Tan "Polo" Shirt

$25.00

15.

2

Light Blue Dress Shirt

$20.00

16.

1

Kenyan Masai Blanket (red & black plaid)

$8.00
(converted)

17.

8

Ethiopian Jewelry (orthodox crosses)

$14.30
(converted)

18.

2

Kenyan Batik (market scene)

$16.20
(converted)

19.

1

Turkana Tribe Bead Strands (various colors)

$8.65
(converted)

20.

2

Ethiopian Scarves

$4.28
(converted)

21.

1

Ethiopian Shawl (white, red, gold, green)

$2.14
(converted)

22.

2

Kenyan Bone Serving Spoons

$3.00
(converted)

23.

1

Turkana Tribe small Wood Stool

$0.90
(converted)

24.

2

Morsi Tribe Clay Lip and Ear Plates

$2.86
(converted)

25.

1

Various small Stones

gift

26.

2

Misc. used clothes

no value

Total Value (excluding replacements):

$814.42

Value of Replacement Items:

$597.66
Note: "(converted)" means that items were bought in local currency and converted to US$ according to the intermediate exchange rate at the time of purchase.
Countries visited - Africa 1998 - 1999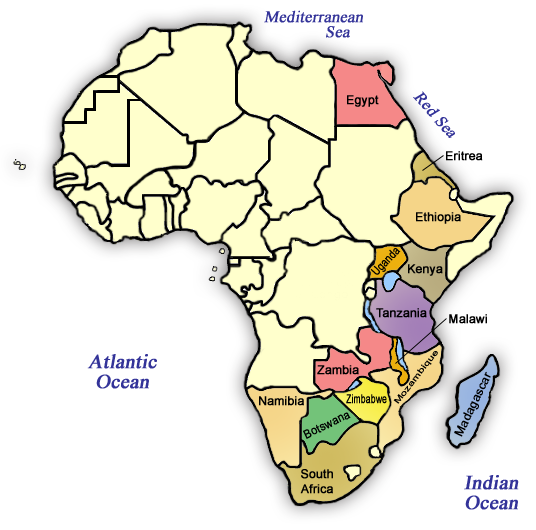 I am not sure how it all got started. It wasn't a magical spark of lightning that began the cataclysm, nor was it the supreme words of a higher being sending us on our way. Somehow, though, the powers of the universe contrived enabling our journey through the Heart of Africa.
It began quite innocently as an alleged trip to Bulgaria and Romania. This idea was eventually vetoed and placed "on hold" for future girlfriends. Zap—a long awaited spark was kindled—The Middle East: Yemen, in particular. And the visas were applied for, the air tickets purchased; and on a fine March 4th day we were on our way aboard a gleaming Air France 747 en route to Cairo, Egypt, via a five day layover in France.
We never did make it to Yemen, nor the Middle East for that matter; we headed South, instead, into the Heart of Africa, and what follows is the story of events as they unfold.