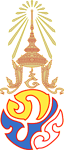 Palaces of
the King
7th and 11th centuries AD — Dvaravati
(Land of Buddhism) refers to the kingdom situated in the The Chao Phraya River basin between the 7th and 11th centuries AD.
11th to 13th centuries AD — Lopburi
The culture was centered in the city of Lopburi and was much influenced by Khmer art and culture as it spread through Northeast Thailand. Lopburi art is similar to the Khmer art of Cambodia.
11th to 18th centuries AD — Chiang Saen-Lanna
This period sees many northern walled-city capitals including Chiang Saen, Chiang Mai, Nan, Chiang Rai, Kentung, and Chiang Kong.
14th to 17th century AD — Sukhothai
King Sri Indrathit declared Sukhothai's liberation from the Khmer and adopted a form of Buddhism based on the Sri Lankan School.
15th to 18th century AD — Ayutthaya
The Ayuthaya period began when King Ramathibodi I (King U Thong) established Ayuthaya as a capital city in the 15th century AD. The city survived until its second defeat in 18th century AD at the hands of the Burmese.
18th century to current — Rattanakosin (Bangkok)
The current era, known as the Rattanakosin period began when King Rama I established Bangkok as the capital in 18th century AD.
back to top