20 August, 1998 The worst day of the trip
Somewhere in the early-morning hours, my backpack gets stolen. "FUCK."
Thieves manages to get the keys from Todd, break into our car and take my bag. I lose 17 rolls of the best pictures of my life. I am devastated. I just sit and mope all day.
I can't deal. I feel as if I have lost everything. All I can do is go and play some tennis with the Dutch.
---
21 August, 1998 — Tennis
We play more tennis today.
And this, my friends, is where my journal stops. To be continued…
Next Countries: Botswana — Zambia
---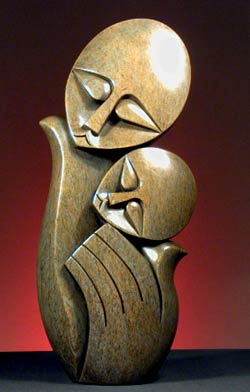 My Shona sculpture
Love and family bonding are the two most fundamental elements on which the Shona culture thrives. The sacred love between a mother and her child is especially celebrated throughout the Shona culture.
Medium: Mutare Serpentine, Width: 5.5", Height: 13", Depth: 2", Weight: 8.38lb
back to top