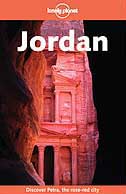 30 August, 1996 (FRI)
— The day of rest
A quick trip to Jordan.
In a time of uncertainty in the Middle East, Jordan emerges as one of the calmest countries in the region, and actually one of the safest in the world (in terms of crime and violence.)
It happens once you arrive; displays of unsurpassed hospitality. "Welcome to Jordan!" is the expression phrase everywhere, often followed by "Special price!"
Jordan is my first experience in a nonwestern country. At first I am very nervous. Having arrived on Friday means it is the day of rest and the country seems very empty and exotic. Many are praying and walking to and from the mosque. Everyone is staring at me. At first, I think everyone hates me, but later, I learn that people are just curious. After all, Jordan has only recently become a hot-spot for tourism; and the idea of foreigners walking around town is still a bit of a novelty for the average Jordanian.
As I lay on the terrace roof tom of the Musa Springs Hotel, I look up at the stars. I listen to the sounds of children laughing, screaming. Remembering past thoughts. Now thinking of future thoughts.
---
31 August, 1996
Petra
---
1 September, 1996
Petra
---
2 September, 1996
Wadi Rum وادي رم , border crossing, and then back to Israel. This trip to Jordan was way too brief.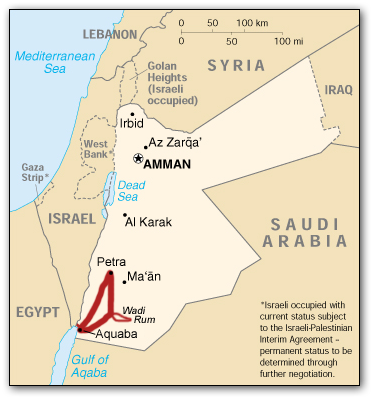 back to top