27 July, 1998
— Zanzibar (MON)
We arrive at midday and walk off the gang plank to the bustle of desperate hawks trying to lure us to their commission paid "hotels." Interestingly, we actually do fall prey to one lucky fellow and hop in his van and drive down the road for ten minutes. Our senses finally do prevail after seeing our potential desolate accommodations, and we demand that we are taking right back downtown.
We enter the maze of Stone Town for the first time. Fate is our guide and leads us to the friendly Salam Hotel where months of practice allow us to negotiate around the rumored set prices of Stone Town. $6 per person per night is more expensive than usual, but we gladly pay. After all, we are in Zanzibar.
Upon hastily unpacking, we enter the maze once again and wander to our hearts delights. I think that Stone Town is one of the most remarkable places I have ever seen in my life. We wander for hours noting intricately carved doors, ample singing children and religious elders dressed in traditional Muslim palliament. Various aromas fill the air emanating from the ubiquitous restaurants and mosques. Small shops with open doors display a universe of souvenirs in all price ranges.
We notice that the sun is setting and somehow, someway we are led to the westerly waterfront where a slew of people are intermingling on the waters edge. Closer look reveals a night market complete with the best of Zanzibar. Foods include sugarcane juice, octopus, Zanzibar pizza (thin dough, an egg, tomato sauce, and various sea food.), and other cuisinal concoctions. We stuff ourselves in the African gourmet for mere dollars and enjoy the night. I notice that everyone is in a seemingly good mood.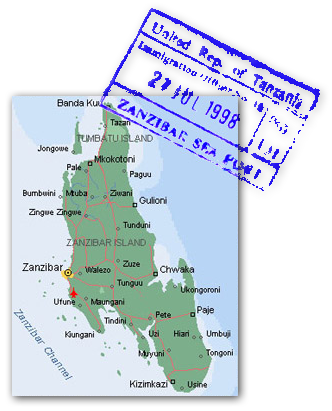 Map of Zanzibar / Zanzibar Entry Stamp
---
28 July, 1998 — Zanzibar (TUE)
We change money today, which actually takes longer than expected. I ditch the group to follow Lindsay on some forsaken dry cleaning crusade. I lose patience quite fast and ditch her and somehow I rejoin the group in Stone Town's maze of activity. Kate actively searches for a sarong and I fumble through the various stores' goods not that interested in the various plastic chachkis. We again find ourselves at the night market with tasty food and a beautiful sunset.
---
29 July, 1998 — Zanzibar (WED)
Kate's stupid idea of a spice tour becomes a reality. I mean the idea is good, but the weather isn't. The result: "Spice Tour in the Rain." And this is the the nutmeg tree whose seed is wrapped in the mace spice. I wish it would just stop raining. Drip, drip.
The weather eventually clears just in time for the night market. Yum.
---
30 July, 1998 — Zanzibar (THU)
Today we again wander the mazes of Stone Town. I get lost.
Tonight's night market proves extraordinary in that we meet Jocelyn, the American-Filipino Peace Corps volunteer who just finished two years of service in Ethiopia. She is sporting a UCLA hat and is quite outgoing so I invite ourselves back to her room so I can have my first dose of CNN World News in months. Todd and Jocelyn speak a lot and I think there exists a bit of a spark. She reminds me dangerously of Todd's ex-girlfriend. I am scared. I eventually grow tired and leave them to their gossip and head back. I am without a clue how to find my hotel, and the midnight mazes of Zanzibar soon engulf my slightly inebriated mind. I get severely lost in the dark and am luckily picked up by a local angel who guides me back to my hotel.
---
31 July, 1998 — Zanzibar (FRI)
We awake and decide it is time to explore the rest of the island. We convince a taxi van to drive us to an isolated beach paradise on the other side of the island. It is a beautiful white sand beach. It is a bit nippy however, so I just chill on the beach and relax. At night we go to a nice bar that overlooks the ocean and have a drink. We eventually find ourselves at the night market. We can't stay away.
---
1 August, 1998 — Zanzibar (SAT)
Today Jocelyn introduces us to George—the Polish sailor and captain of the twin mast 52' Black Diamond—and Bossman, his dog. We learn that George is leaving for mainland Tanzania at night and we may accompany him for a small fee. We accept, get sorted, check out of our hotel room, clear customs, make one last round through Stone Town to pick up supplies, and on a fateful sunset, sail out of Zanzibar. It is one of the more beautiful sunsets ever. I know I am really going to miss this island.
The weather is nice, but the boat still rocks. Greg, Todd and Jocelyn go below and pass out. I stay up for a while. The winds increase and water occasionally splash the deck of the boat soaking my inviting clothes. The stars are bright tonight having no competition with the moon which still hasn't risen in the East. I grow tired and go below as well to smell of vomit. My poor friends sometimes can't stomach the adventures.
---
2 August, 1998 — Little Island (SUN)
I awake and the boat is still. The night before was rough and enjoyable, yet now the boat barely moves. Where are we. I am the last to rise. As I peer out of the cabin I see everyone enjoying the sight of a lonely island some 100 feet away sheltering us from the rougher seas. Opposite the island lay Tanzania—mainland Africa glimmering in all her might.
We spend the entire day on this small island swimming, playing Frisbee, exploring the coral formations. It is quite nice. We eat a nice dinner and sleep on the boat again.
3 August, 1998
— Back to Africa
George attempts to lift the anchor, but when it is inches from the deck, the ocean-bleached rope snaps and the anchor falls to the ocean floor faster than shark chasing prey.
Todd comes to rescue and fits himself with ancient scuba gear. I dives 30 feet, ties a terrible knot on the anchor and resurfaces. We successfully raise the anchor and tease Todd about his knot, but in fact we are grateful that Todd saved the anchor ($500.00 USD investment.)
We sail back to a harbor near Dar es Salem and bid farewell to our new seafaring friends George, Bossman, and the Black Diamond.
I wonder if I will ever return to Zanzibar?
back to top