Sunday, Sep 2 — Mostar
My bus arrives to the town of Mostar in the Herzegovina region around 8:00pm. I am met by a fellow named Bata at the bus station. Bata leads me to the Majdas Rooms guesthouse, on Franje Milicevica (road) where I pay €11.90 for a bed in a shared-room. I take an evening walk around town and enjoy the crisp, cool air. I feel like I am in a vey remoe portion of Europe.
---
Monday, Sep 3 — Mostar
---
Tuesday, Sep 4 — Mostar
I enjoy an excellent windy ride in old-school train through the mountains to Sarajevo in the region of Bosnia. I am met by a man at the train station about twenty minutes after I arrive. He takes me to the Haris' Hostel where I rent a bunk in a room with about 12 other beds. There are many Brits staying here, drinking, playing cards and having a good time.
---
Wednesday, Sep 5 — Sarajevo
Tour Sarajevo and try Chevapi
---
Thursday, Sep 6 — Sarajevo
Tour to Sarajevo
---
Friday, Sep 7 — Bus to Belgrade
I catch the mini-bus ride from Sarajevo through the Republika Srpskato and on to Belgrade, Serbia. The scenery is quite green and dotted with village housees. For some reason I become quite sentimental and listen to the Julio Iglesias album Julio which cheers me up.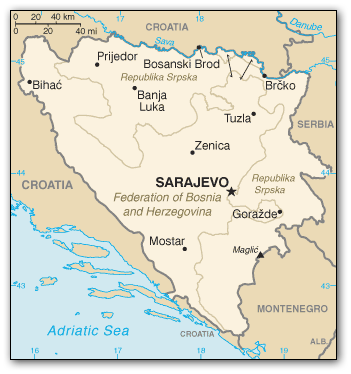 Bosnia Map
back to top