Friday, Aug 31 — Dubrovnik
I arrive to Dubrovnik in the last afteroon. I am met by several middle-aged ladies all asking "Boy, boy, need a place?" I chat with one lady who takes me to her place about 20 minutes walk from the old city, though she said t was a ten minute walk. My room in nice and the surrounding neighborhood is full of cafes, walks along the bay with boats, clay tennis courts, parks and nice views.
---
Saturday, Sep 1 — Dubrovnik
I tour around all day
---
Sunday, Sep 2 — Bus to Bosnia
I book the 5:15pm bus to Mostar, Bosnia. The drive along the Croatian coast with views of the Adriatic sea are breathtaking. I make a promise to myself that I will return here one day with a lover or group of friends. I arrive to Mostar around 8:00pm.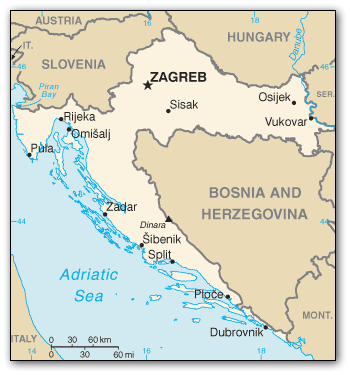 Croatia Map
back to top