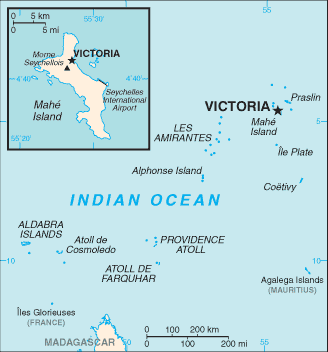 May 17 - 20, 2010
We really had a great time at this spot. Although the trip was short, we had enough time to taste the culture, meet the locals and set the foundation for future returns. Following is our schedule:
Monday, May 17 — Praslin island
We arrive to Victoria, Mahé, the capital of the Seychelles, on via Emirates Airlines flight 705 at 6:50am. We no sooner hop on an adorable Air SeychellesTwin Otter, flight 3082, and land in Praslin at 8:50am. My luggage does not arrive, but I am still content. We head over to the Berjaya Resor, which will become our home for the next few days. We enjoy lunch at that small place that specializes in fish curry. My luggage finally arrives and I change out of my airplane gear (tan pants and a shirt) and into my island beach clothes.
Dinner at Pirogue Bar & Restaurant, this was the place that we tried to go to a second time (on the 19th) with the buffet and live band, so we sat at the bar instead.
---
Tuesday, May 18 — La Digue
In the morning, we ferry over to La Digue. We arrive to the small town of Anse Réunion and are met by several oxcarts eagerly waiting to assist with our luggage. We head over to the Fleur de Lys Guesthouse. We head over to the famous beach of Anse Source d'Argent and have a great hike. We enjoy some fruit from a local, half-off, and continue our wander. In the afternoon we rent bikes and cruise around the back roads.
Yummy dinner at Chez Marston, the place on the main road that was empty when we arrived but (mostly) full when we left.
---
Wednesday, May 19 — Praslin island
Breakfast at Veuve Restaurant, La Digue Island Lodge, the outstanding buffet with the sandy floor, overlooking the ocean, 396 Seychellois rupees. We take the ferry back to Praslin, change our room, and rent a car to drive around the island—this is highly recommneded.
Dinner at the Berjaya Pizzaria, next to the beach.
---
Thursday, May 20 — Praslin island
We awake early and enjoy the beautiful sunrise. We are in a bittersweat mood because we are leaving this paradise, but we are continuing on to Africa. Air Seychelles flight 3117 takes us back to Mahé where we board Kenya Airways 451 and blast off towards Nairobi.
back to top