A beautifully produced album capturing Tabu Ley Rochereau in his singing prime. (I personally think that the older he becomes, the better he sounds.) This album features the long-standing Orchestra Afrisa performing their all-time favorites. Too bad Tabu Ley is too busy running politics in Congo PDR; I really would like him to tour.
---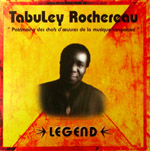 Legend
A wonderful 2-CD compilation covering hits by this master. A nice starting point for dipping into the old-school Rochereau Universe. CD contains 24 hits from this master musician — some impossible to find elsewhere.
---

Tabu Ley Rochereau in his rawest form. The album intermingles the sweet voice of this star with blasting horns, stable bass, and a nice beat. Very mellow and satisfying taking the listener back to the yesteryear of Congolese rumba. No fast-jumping guitar solos here, just mere old-fashioned pleasure. Mongali, track 2, highlights the superb vocals and shows that the voice is nothing more than an instrument. Oya Sela, track 8, has a melody that matches non else. It is featured on the Legend album, as well.
---
Yet another chronicle in the wonderful musical world of Tabu Ley. This albums fall in line with his other earlier recording offering a sweet mix of vocals, instruments and beats. I found this one last time I was in NYC. If you can find it, get it…
---
This is the Rochereau album to be played at your next cocktail hour. Sax, other horns and our hero's voice challenge many of the American jazz greats on this release. Nice to just chill-out to. This is Volume 3 in a set released by Sonodisc.
---
A wonderful album for the more avid collector highlighting live performances of favorite Rochereau classics. This album is live and some of the recording aren't studio quality, however, the historical significance supersedes any recording distortion. Something to dive into if you are interested in what the music world was like before you were born. I would suggest this be your first Tabu Ley album. But if it is cheap, get it.
---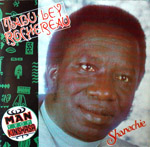 Man From Kinshasa
An out-of-print Shanachie release that offers a nice sample of Tabu Ley in the 1980's. His voice is in prime form here. The music isn't as poppy as other soukous releases, so it took some time for me to realize the true beauty of this album. I almost sold it before I gave it the time of day. But now I will keep it forever. I only wish there was more easily obtained material from this wonderful musician that has one of my favorite voices out of Africa. Even though the release is on the widespread Shanachie label, I can find this for sale no where on line. Your best bet is Amoeba Music in San Francisco.
---

Another Shanacie release with recordings on this album date from 1968 back before much of the hype so you have an old-school sound here. It is quite hypnotic and you can tell that Tabu Ley vocals still haven't reached their prime. Still, the historic significance of this album can't be overlooked, and any Rochereau fan can't miss this. The album also features M'bilia Bel's sweet voice which is prevalent throughout the album.