This should be one of the first soukous albums you buy. It may take a while to enjoy; but once it does—buyer beware—you WILL become hooked to the infectious grooves found within. This will become a staple on all your adventures and you may find yourself opting for more, more, more. Be careful. This is an expensive habit. The individual albums highlighted by this compilation are hard to come by.
This album begins with the powerful Soukous anthem Roger Milla. The album then continues with classic sounding songs with superb vocals and excellent guitar licks. Musicians include Diblo Dibala, Syran M'Benza, Lokassa, Zaïko Langa Langa, et al. The album never tapers, instead it only gets better at the end… throw in a Yesu Christu (Kanda Bongo Man) and Ponce-Pilate (Tabu Ley) and you have one incredible all-encompassing album. Highly recommended and not to be taken lightly. I love this album, I love this music, and I love Africa.
---

Highlighting not only local Congolese greats, but artists from the entire continent, this album focuses on the rhythmic masters that want to make us "shake." The lineup includes household names such as Kanda Bongo Man, Tabu Ley and Pépé Kallé, but also introduces shining stars such as Dave Depeu, Patience Dabany, Dindo Yogo, Seliko, et al. Highly recommended.
---

Another star-studded effort by the folks at Rough Guide. This time, they really catch the gist of the Congolese sound. The album attempts to highlight Congo and rumba legends and spans over 30 years of musical history. Greats include Franco, Tabu Ley, Sam Mangwana, Ry-Co Jazz, Kanda Bongo Man, Papa Wemba, et al.
---
Another superb lineup on yet another classic Mondo compilation. Every song is a hit; perfect for driving in your car. Includes a beautiful rendition of Suzanna (Sam Mangwana), Muniache (Samba Mapangala), and Ngungi (Tabu Ley Rochereau). My favorite, however, is the song Simba Malembe (Pablo Lubadika) that features one of the all-time best solos by Diblo—not to be missed by any fan.
---

A wonderful and upbeat dance album highlighting soukous bands from around the continent, especially West Africa. Bands include Deception Doudou, Zao, etc. I just bought this album and am still becoming familiar with it. More soon…
---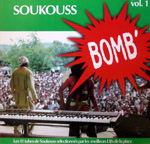 Eveyone has got to give the bomb a chance — the name says it all, and if you are not convinced, play song three and listen to Sakis' Sex Machine. Other artists such as Arlus Mabele appear, but in general, this album is a stooped-up speed soukous medely that requires 3 to 4 listens per life.
---

Not my favorite compilation but interesting for the more avid collector. This compilation focuses more on the local music scene of Kinshasa, Congo PDR, and so, in essence, it is a more realistic representation of the current music scene there. My biggest complaint, however, is that the album weaves beautiful songs with others that are pure cheese. Artists include the ever popular Koffi Olomide, Wenga Musica, Soukous Stars, et al. If you can find it used, it is worth a go.
---

This is the album you play at the party when you want your guests to dance. It is not ideal for at home meditation purposes. The heavy bass lines and fast tempo create an ambiance that brings the listener straight to the dance halls of Kinshasa.