My favorite so far. I don't usually prefer greatest hits albums, but for an artist whose material is so difficult to come by, this couldn't be suggested more. The song Argent Ne Fait Pas le Bonheur is unbelievable. I am not sure who is playing the guitar, (Diblo? - I think I hear his name shouted out amongst the licks) but this has got to be one of the tightest, 'soulfulest' guitar/vocal compositions I have heard. The other songs on the album are all gems, especially Moyibi, Gérant, and of course Roger Milla. If you want one Pepe album, or one soukous album for that matter, own this one.
---

Another gem. Any true fan cannot be without this classic. The album blasts off instantly with Pepe's voice and guitar riffs that make Chicago bluesmen seem like infants. So many legends appear including Diblo, Dally, etc. You will not be disappointed.
---
I bought this album and it contained the fourth and fifth versions of the soukous anthem Roger Milla. The other songs are outstanding, as well.
---

This album is a bit different, in that the pace is a bit more mellow, yet things truly pick up as the album progresses. If you own the above and want more, and can find this used, get it.
---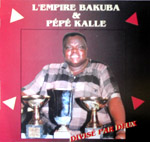 L'Empire Bakuba et Pépé Kallé
Divise Par Deux
I found this on eBay. It is all in French and contains some wonderful melodic material from Empire Bakuba. The third track, Soso Ya Tongo, is also featured on Super Guitar Soukous ignite the album. My main complaint is that 2/3 of the way through many of the songs, one of the singers starts a series of grunts that seem annoying to the foriegn listener. Maybe these have some symbolic or sentimental undertones, that non-natives don't understand.