For once, all the reviews are correct… This album is brilliant. The singing is sublime and the rythms are masterful — Magwana at his peak. If I had to be an ass and find something wrong with this work I would say my only problem is the guitar effect used for the solo on track 2. It is too metalic. Other than that, this is one of my favorite Mangwanas. Buy this album or regret it.
---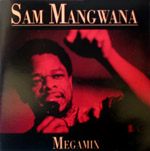 This is an import that I found used one day in San Francisco. The album title correctly depicts the tracks within. Hit songs seemlessly flow from one to the next weaving themselves into one large Megamix. I would not rely on this album alone to do justice for the songs sampled within. Instead I would use this album to compliment other Sam albums with full-length versions of the tunes found within.
---
From one of Africa's most beautiful voices comes one of its most classic originals. Sam Mangwana's Maria Tebbo fuses soukous pulses with rumba chants. And he is laughing the whole way through. This album combines two previously out-of-print releases into one CD.
---
Putumayo's attempts as capturing Sam Mangwana's magic are realized in this captivating release which has tinges of Cuban influence mixed with his native rumba and soukous vibes. Though not the most classic of Sam's albums, this one is the most easily obtainable and will not disappoint.
---
Mangwana release on Shanachie is nice. A bit more world-beat to appeal to the hype during this period, but nice to listen to nonetheless. I prefer Sam in a more natural setting because I feel the 1980s technology used here can limited his timeless voice.