Africa — South of the Sahara
Comprehensive list of African radio stations on the Internet, updated by SULAIR.
---

Africa No. 1
The name says it all. From Gabon via Paris and now broadcast over the Internet. Always on, but really swings late nights.
---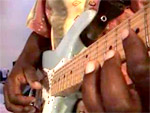 Soukous Radio (Live365)
dj.henri spins this thumping mix of soukous, congolese rumba and other African hits 24/7 from New Kinshasa, NY. Check his other site: soukous.org
---
Afrodicia
Saturdays, 2 – 4 pm on KPFK 90.7 FM
Upcoming Events in Los Angeles
---
Africa Mix
Thursdays, 9 pm on KALW 91.7 FM, San Francisco. For three hours every Thursday night, programs of African music, philosophy, and folk culture…
---
Echoes of Africa
Mondays, 3 – 6 pm on KKUP 91.5 FM
Host: Emmanuel Nado
---
Africa Today with Walter Turner
Mondays, 7pm – 8 pm on KPFA 94.1 FM, San Francisco. A weekly news program providing information and analysis about Africa and the African Diaspora.
---
www.africanmusiciansprofiles.com
back to top